YOU CAN DRIVE A TEAM
(2014: It's been great fun, but we are no longer teaching driving. We'll leave the links up as they may be useful to some visitors).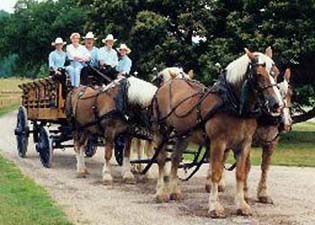 "Thank you for the opportunity to realize a dream! The school was so memorable, so informative" writes Gail Whitcomb.

Talk about fun! What a great learning experience. Nearly 100 hardy souls have attended our horse driving schools where they learn to drive a single horse, or a six horse hitch.

From a professional horse trainer: Pam Umberger says

"I learned so much - even more than I had hoped. I especially want to thank you for drawing me forward into more difficult tasks with the horses." And Roscoe Goode, a highly experienced teamster himself, notes that the school is "...an event that remains one of the most enjoyable of my memory."

Occasionally, the media cover our guests: has filmed them learning to drive horses and newspapers have headlined our teams at work and play. Rob Hampton was featured on the PBS video filmed at our driving school which was, he says: "...one of the best training investments I have made. I recommend it to anyone, expert or novice."

The crew at the Nemacolin Equestrian Center comes here to Bundoran to retrain; just as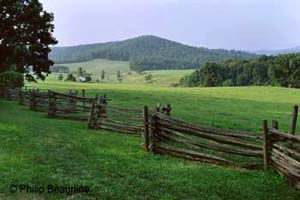 Buzz Scanland, General Manager of the Mountain Lake Hotel, sends his teamsters here for recurrent training because "we rely on Fred to train our people and supply us with heavy horses. We know that we get good training and a quality horse for a fair price."

Our students backgrounds range from total beginners like Tom Skalak, to advanced drivers like Lynn Tuckwiller and Dr. Ann Dunnington, who teaches equitation at .
Stephen Kuhlman always wanted to try it and had wondered if he could, so we enjoyed watching him prove to all of us that he was a man of courage, who knew no limitations; Steve has been back for a second refresher clinic. Jan and Laura Bonner came to class as a mother/daughter team and left as experts. They now drive regularly at home.
Other students include Jahn Pearsall who often comes over to trail ride with us, and to learn from Stan Rudacil who takes care of our heavy horses feet so well.

You can drive a big team, too. Our quiet gentle giants will help us teach you how, and you will never be the same again. Still curious? See the FAQ's about driving and please take a free look at Lesson One

--------------------------oooooooooooo--------------------------
Check out some comments by our most recent students: Ann Sutherland & Ray Keller, Hilary Day, Steve Kuhlman, Bertha and Charles Durbin, Rebecca Terrill, Susan Snead, the girls from Warren-Wilson College or Ginger Greene. Tony Banfield and Will Naylor drove up from Houston and had fun, too!

You may be interested in our typical curriculum for the "Introduction to Driving Multiples" class, or check out our students with comments on this website. Maybe you need Travel directions to Bundoran Farm. Please also look at our Frequently asked Questions about our school, and be sure to study Lesson One if you plan to attend.

HOTEL and RESORT Horse-Crew Driver Training:
Just as the Mountain Lake Hotel (VA), (VA), and Nemacolin Equestrian Center (PA) send their teamsters here for training, we would be happy to train your resort crew, or undertake recurrent training with them. While these programs are similar, each is customised to the Resort's particular requirements. Please call or email us with your needs.