A TYPICAL SCHEDULE

(2104: It's been great fun, but we are no longer teaching driving. We'll leave the links up as they may be useful to some visitors).

Every class we have is filled with students from different backgrounds and with different interests and goals. We try our best to accomodate all in a way that's fair to each. We focus on SAFETY first, then we work on the basics that apply to any team worldwide. The things that will keep you out of trouble are the same in Hungary as they are in Mexico, so we work hard on developing an understanding of the risks (which we think can be managed) in any driving style or with any type of horse.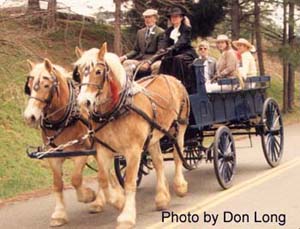 Why do we use draft horses? Two reasons: they are so darned BIG that their size makes any sensible person pay attention, and they are so quiet that their disposition reduces the risks that can be associated with novice drivers. Plus, we just like them!

Please see our Frequently asked Questions about our school, and please study LESSON ONE

We do not teach competitive driving, driving at high speed, or preparation for the ADS showring. But we can get you trained with pairs or fours so you can move quickly and safely to that much more advanced level.

A Typical Four day clinic as an
Introduction to Driving Multiple Horses will include:
Thursday 1 PM - 4 PM Students begin to arrive. Getting to know you. By now you should have read and understood LESSON ONE plus a few tips and the RULES we operate by. Early arrivals get to know each other, and often drive a cart or a 4-up hitch as a passenger or briefly in the driver's seat (with help!).

Thursday 4 PM CLASS BEGINS: Safety and legal briefing, What's going to happen to you.
Thursday 5 PM How to harness: safety & fit
Thursday 6 PM til dark. Driving three pairs and one single horse, Questions & Comments.

Fri/Sat 8 AM How to harness: safety & fit Review
Fri/Sat 9 AM Driving three pairs and one single horse
Fri/Sat Noon Lunch, including Questions & Comments.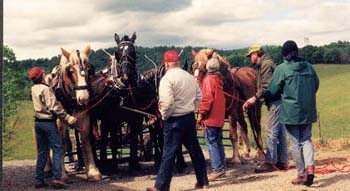 Fri/Sat 1 PM Driving three pairs (or four up and one pair) and one single horse. Beginning to hitch multiples, as seen here.

Fri/Sat 6 PM Questions & Comments

Sunday 8 AM How to harness: safety & fit Review

Sunday 9 AM Driving three pairs (or four up and one pair) and one single horse

Sunday Noon Lunch, including Questions & Comments, Adjourn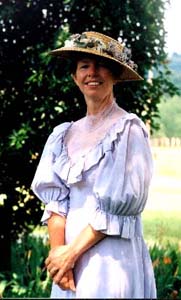 Often, on the last day, if someone is inspired and not too tired, we will play with the teams. The July 2001 class ended up doing photography and playing dress-up with our elegant coaching vehicles, so we could use their pictures on this website. We sure do thank them, because these shots are a whole lot nicer than a picture of a coach up against a barn wall

Shown here, Ann Sutherland, a typical student properly dressed for driving school. (Sure!).

Classes that teach to a higher level would be longer in time with more emphasis on backing, operating in tight places, driving in crowds, driving with distractions, and with multiple hitches out almost all day.

Do you need directions to our farm?

Our quiet gentle giants will help us teach you how to drive, and you will never be the same again. Just listen to Bland Goddin: . "[My daughter] Maria loves having her picture on the internet - and in such a beautiful carriage.

"I had so much fun at the class. The teachers were superb, the horses were wonderful, and the setting was out of this world - such a pretty place to be. I have been raving about the class - I think it was well worth the money and time. I feel like I can drive and that I know enough about harnessing to be comfortable with it.

"I thought your emphasis on safety was especially good and I really liked the way you explained why things needed to be done in a certain way. That sort of explanation will help me remember what you have said in a way that rote repetition will not."
HOTEL and RESORT Horse-Crew Driver Training:
Just as the Mountain Lake Hotel (VA), (VA), and Nemacolin Equestrian Center (PA) send their teamsters here for training, we would be happy to train your resort crew, or undertake recurrent training with them. While these programs are similar, each is customised to the Resort's particular requirements. Please call or email us with your needs.