ANITA SHELBURNE, PBS, NEWSPAPERS, and MANY OTHERS !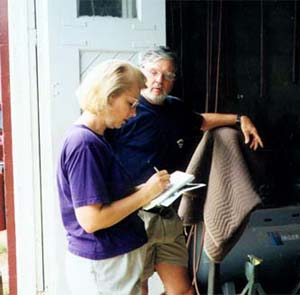 Our friends in the media, like Anita Shelburne of the Charlottesville Daily Progress, have been kind and enthusiastic with their coverage of the Bowman Belgians and the Bundoran Driving school.
Anita writes the column Hoof Prints for the as well as serving as the editorial page editor. We enjoy her thoughtful, and reasonable, approach to editorial writing.
Her thoughts about Virginia's government and governance are most welcome. She is a voice of reason.

Plus, her love of heavy horses - and her desperate need for copy! - have brought her to Bundoran several times both as our guest on a trail ride and to write about our operations. She wrote an extensive article about the restoration of our horse-drawn carousel for the nationally circulated Carousel News and Trader magazine.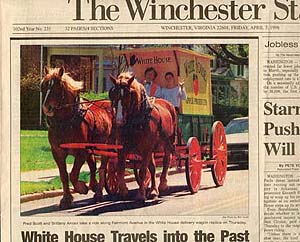 Our Belgians have been the subjects of a feature article in the , and the published in Great Britain. Extensive coverage of our horses and of the Driving School has been printed in the Staunton Leader, the , and the Winchester Star, among others.

Locally, our WVIR Channel 29 television crew has used our teams a number of times, pulling our carousel, parading with the fire pumper, or dressing up their weathermen for a promotion.
The Virginia Horse Journal featured our team on its cover for its annual driving issue, as did the Driver's Digest - a nationally circulated driving magazine. Locally, the glossy upscale magazine - which covers our wonderful community - did a nice piece on the Bundoran hitch. It's all very flattering! generously reported the "People's Choice" award granted to our horse-drawn carousel at the spring 2000 CAA meeting at Colonial Williamsburg.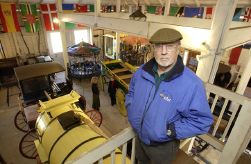 In December 2003, Rob Longley of the Staunton News Leader wrote a nice article about our carriage barn.
Our photographer friend Don Long works for the Richmond Times-Dispatch and he lent us his talents as he took many of the photographs that you see on this site. Don and his wife - also named Anita - lent us their daughter Staci who was one of our first hitch drivers.

Don's co-worker Carlos Santos is a bright and enthusiastic reporter assigned to Charlottesville and he has covered a number of horse-related events here at Bundoran. We are grateful for Carlos' fine reporting, including a full photo feature on Kathy Peace's striping of our little stationary carousel.

It's easy to see why Gianni Versace's photographers wanted to use these quiet draft horses in their fashion catalog. The beautiful young fashion models were much too valuable to risk.

Virginia is blessed with superb Public Television. May Lilly Lee, cameramen John Warner and Mason Mills, and director Shaun Freude of the Community Idea Stations of Richmond filmed a segment on our school on their award-winning show Order a video (about $20.00, ask for Program Number 818) or call them at: 804-560-8113.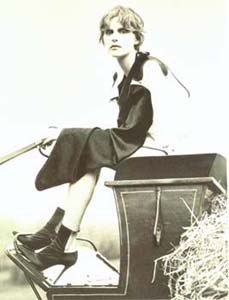 George Gilliam, a PBS television producer, writes: "Fred: you, and Bundoran Farm, could not be more accommodating to a film maker. In connection with our production on the history of the horse for Virginia public broadcasting stations, you have been extremely helpful in providing a knowledgeable understanding of the history of the work horse in a useful way. Your farm, including the draft horses and the wagons and carriages, provides a splendid backdrop. Your horses were well-mannered--a tribute to the effectiveness of the firm but affectionate discipline you advocate--and will be useful actors in the production. The location of your farm is a dream...I cannot imagine more beautiful backdrops anywhere. Thank you for everything.

Shawn Freude, directing the film crew for both productions at Bundoran, adds: "Expect a warm welcome at Bundoran! We spent the day with Fred Scott and his Belgian team, Ben and Abe, and our video shoot seemed more like a pleasant day in the country than work. The horses were the most patient extras one could hope for; Ben and Abe took direction graciously in order to create the perfect shot and the team knew instinctively how to add emphasis to the narration! What a great day."

Gilliam concludes: "Fred, I know you are inundated with requests so I am especially grateful that you were able to take such good care, so quickly and easily, of me and my crew. Your charges were moderate--I feel we received excellent value for our investment. Many thanks."

George H. Gilliam is the Producer of "The Ground Beneath Our Feet" and other excellent PBS programs here in Virginia.

In the fall of 2003, a PBS special "The Defining Hour" on Senator J. William Fulbright was partially filmed here by Rubicon Productions using our drivers, horses, wagons, and location. Rubicon Productions produced the superb PBS special on

An Outdoor Channel segment - in production by Forest Pursuits - on archery hunting, tentatively called "Wild Heart Outdoors" was filmed here by Cedar Ridge Outdoors of Virginia, and sponsored by T.R.U.BALL, manufacturers of superb archery release triggers in the Lynchburg VA area.

| | |
| --- | --- |
| We think the media likes our teams; if we can help you, please Contact us. | |