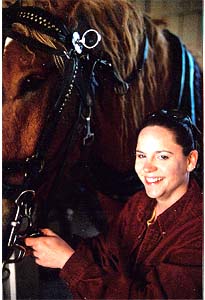 As the class began, Susan met Sara Manuel, Ang King, and Amy Mandeville - students at Warren-Wilson College in North Carolina. As always, we began with a four-up demonstration...

Susan reports: "I was definitely overwhelmed by trying to drive a 4-horse hitch in the first hour, but I found that going from difficult to easier was exactly the right approach... I'm still pretty amazed that on Sunday I was actually trotting a team through a serpentine and doing it confidently!"
"Although their styles were somewhat different, Fred and Pam were both excellent instructors. They encouraged questions and patiently explained the whys and hows of driving.... and adjusted their teaching and expectations to each student based on that student's individual skills and experience.

"I definitely felt as if I'd accomplished something great when I was actually able to apply the knowledge I had gained... by driving the four-horse hitch pretty competently on Sunday"

That's nice, and we appreciate her comments, but it was not flattery that got her our invitation to help us with the steam powered fire pumper the following week at the Dogwood Festival parade in Charlottesville.

It was a great smile and a quiet competence that did it!! We appreciate her help!