HILARY DAY
Hilary Day and her husband Dennis live near Wintergreen Resort in Nellysford, VA. She owns a team of Percherons and has a dream that she can start a carriage servive to serve the resort community. We think that's a great idea, but we encouraged her to come to the July 2001 school, which lasted three days.

She offers this critique of the class: "Thank you Fred, for your hospitality, your help, encouragement, and sense of humor. You've been wonderful from the moment I first spoke to you on the phone.

"The class was great. It was a difficult decision for me to spend the money to attend the class. But I'm glad I did, and so is my husband. It's naive to think it's OK to to go out, hitch a horse to anything, and start driving without some formal training and lots of practice. No question - that would be a disaster in the making. I'm a "jump in the deep end kind of gal", and your class prevented me from from doing something really stupid.

"I appreciate the emphasis on safety throughout the course. My horses will be dragging a lot of tires around the riding ring before I or anyone else puts a vehicle behind them.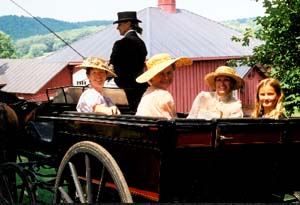 "The other students in the class were great. It was an interesting and fun bunch.

(Shown here, Ann Sutherland on the left, and our two instructors are playing dress-up after the class ended. Hilary is second from the right. Rebecca Terrill - also a classmate - helped harness and hitch.)

"They were all good sports, quick to jump in and do the work, and just all around good people. We still enjoyed each others company after the class. I got phone numbers and E-mail addresses of several of the students (and the instructors), and hope to stay in touch over the years.

"The instructors were all just wonderful. Pam Umberger was excellent at presenting lots of information and a clear and organized manner. Lynn Tuckwiller was great source of encouragement helped me to believe in my ability to attain what I want. Of course you, Fred, made the whole thing fun and exciting.

"I have one suggestion about what would have made the course a little easier for me. I would have liked to go through a short talk on safety rules (do's and don'ts), general driving techniques and what to expect from the horses, before actually holding the lines. That way the instructors all know who's heard what before we start." Actually, we agree. Our curriculum starts with this briefing, but somehow Hilary was late arriving. She said that her horses ate her schedule, so we did not spank her.

Until later. For something else.

Hilary concludes: "Thanks again for you hospitality, and for sharing the beauty of your farm, your home, and all the lovely horse-drawn vehicles. Sorry about the pitman rod on your horse mower - it really is the first one I ever broke."

What the heck. It's probably the first horsemower she ever drove, too!

Questions? Ask Hilary Day about the Bundoran Driving school.

Our quiet gentle giants will help us teach you how to drive, and you will never be the same again.