Fred Scott, Jr.
(434) 295-4188




WARREN-WILSON COLLEGE FARM CREW
"Thank you so much for an awesome experience, one that I'll never forget!"

Brittany Amiss, one of our young crewmembers, went off to college in Asheville, where all students engage in work-study programs. Brittany joined the college draft horse farm crew (we wonder how she chose this line of work!!) to help raise food for the college.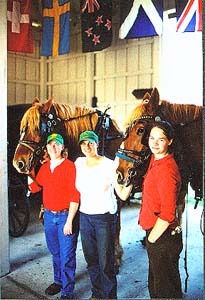 On the Farm Crew she met Sara Manuel, Ang King, and Amy Mandeville - also students at Warren-Wilson - who signed up for the Spring 2002 Driving School classes.

We began with a four-up demonstration, as we always do.

Amy (on the right) notes: "...being placed in the first hour - in such a high pressure situation... made me realize that I needed to focus... and pay attention to every word each instructor would tell me in the time ahead."

Good! That's why we start every class with a four horse hitch, then go immediately thereafter back to the basics.. We want the students to see what they will be doing by the end of the class.

Sara Manuel (center) adds: "I was a little overwhelmed at first... but the good balance of intense instruction and...relaxed driving time...made a wonderful weekend full of learning and fun. Your ability to pinpoint the source of our mistakes is very rare and I feel lucky to have met you."

We feel the same way, too. What a nice group of intelligent young women!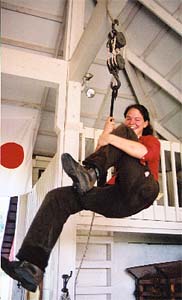 We tried hard not to have any fun, but girls being girls...

(and Fred being Fred!) ... Amy was hung from the harness hook, and had to stay there until she stopped giggling.
Which took a while!

A more serious Amy offers: "The focus on safety is helpful. Fred and Pam emphasized this point repeatedly... and that the instructors were paying close attention to the horses even as we were fooling around; that we should all learn to keep one eye on the teams while also doing something else", ... like talking to the public who look at the college horses at public events.

"The school was exceptional at adjusting to each student's needs, says Amy." This was important because these girls were priveleged to share space in the spring class with an advanced horsewoman but beginning driver, Susan Carol Snead of Albemarle county.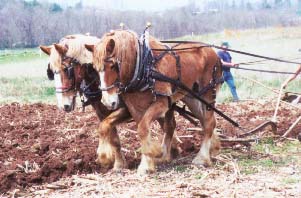 Sara notes that the course "... did an excellent job of walking the thin line between maintaining control and disaster. [Fred] gave each student just enough space to make mistakes and lose control at times, but stepped in at the perfect moment to prevent an accident"

These girls work with Brittany Amiss (shown here plowing at college) on the draft horse crew; Brittany reports that the work includes "... hauling, plowing, discing, field work, logging, and public events like wagon rides, weddings, a funeral, and more..."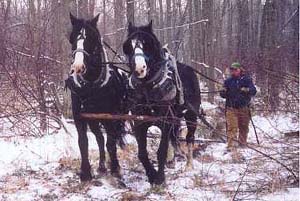 Ang King has her own team back home in New York state. Here she's skidding a log out of the winter forest with Dom and Check (Domino and Checkers).
Ang writes: "Wow!...It means so much to me to be able to share such a wonderful experience...with others. There was never a moment that I was not impressed and intrigued by what Fred and Pam were doing, and how they were teaching us.

I am very excited to go home and try all the new things that I have had implanted in my mind by Fred's ex-Marine attitude, jokes, duct-tape practices..." [ Ed note: students that were too verbal with the horses had their mouths duct-taped shut while the balance of the class recited the class motto SHUT UP AND DRIVE! ]

"The only thing I have to warn you about is try not to have so much fun!

"I have the utmost respect for what I have seen here these last four days. Thank you so much for an awesome experience, one that I'll never forget!"
| | |
| --- | --- |
| If you'd like to ask about or sign up for the next class: Contact Us. | |