CARRIAGES AND CAROUSELS FOR YOUR NEXT EVENT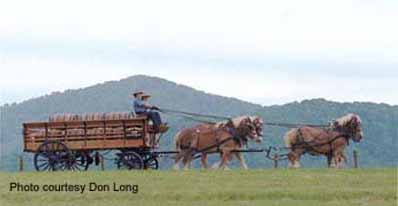 | | |
| --- | --- |
| As we developed and expanded our draft horse hitch and began teaching other horse enthusiasts to drive teams in our driving schools, Bundoran Farm acquired quite a sizable collection of horse-drawn vehicles. A lifetime spent in production agriculture expressed its interest in fully-functional antique horse-drawn farm equipment. Not particularly efficient, by today's standards, this equipment all is operational and looks really good working in the background in a , as period pieces. | |
Elegant coaching vehicles, descended from our ancestors include our great-grandfather's Clarence (which he purchased new around 1870), our grandmother's graceful Brewster Victoria, and our aunt's rockaway opera bus, used as a semi-formal evening carriage.

Perhaps the single rarest horse-drawn vehicle in the Unites States is the "Children's Delight," a superbly restored horse-drawn kiddy carousel. This extremely valuable vehicle is hitched only on very special occasions, like the 2000 Foxfield Races to benefit the Recording for the Blind and Dyslexic and the "Today" morning television show with Willard Scott, to promote the Town of Warrenton's 100th Anniversary horse show.

The media loves the carriages and the carousel: when a hitch team arrives for a special appearance, local newspapers often headline our horse teams at work, and camera crews come running.

The very large commercial delivery vans and trucks are massive vehicles and impressive restorations. They are suited for multiple-horse teams of heavy horses. All are road-worthy, and spectacular.