Nell is an elderly lady who once was one of our lead horses in the Bowman Belgians/Bundoran Belgians hitch. She now is the solo queen horse at most weddings at the Mountain Lake Hotel. She is quiet and friendly, and has a great job with good folks like Jennifer Bulot taking care of her. Jennifer is a student at Virginia Tech and works at the hotel to help with her tuition payments.
Jennifer reports: "I attended Fred Scott's driving school the summer of 2000. I had just started working for Mountain Lake Resort driving their horse and carriage, and I had never driven horses before. Due to my work schedule I was only able to attend a two day course, but during that time I must have put in 12 hours of driving. Within those twelve hours I learned how to drive a one and two horse hitch through circles, backing, turning, and obstacle courses. I even tried a three horse hitch, which was extremely difficult, but it gave me that much more confidence in my ability to drive a one horse hitch."
When Jennifer and her co-driver Brian Matthews arrived and began training, we decided to focus on additional areas of risk that might come up when dealing with wedding crowds -- people throwing rice at the bride and hitting horses, etc. So we really pushed them into these specialized areas. In spite of this, necessarily stressful, training, Jennifer adds, nicely: "Fred Scott made me feel right at home and gave me the confidence and know-how that I needed."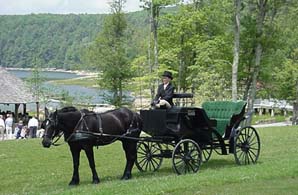 As to her confidence and ability, we agree. On a recent trip to that beautiful hotel, we observed both Jennifer, shown here, and Brian driving with real confidence. We are really proud to be associated with that operation.

The quiet Percheron is Julie who we found at Ray Kisamore's place when Mountain Lake asked us to help.
Mountain Lake is a rare natural lake and is high in the Allegheny Mountains just west of Blacksburg, VA. The hotel has been open for years and is a delightful place to visit. Cool in the summer, with miles of walking trails, it's perfect for a honeymoon or quiet vacation. We love it there. Give them a call: 800.346.3334 or visit at
Buzz Scanland, General Manager of the Mountain Lake Hotel sends his teamsters to Bundoran for recurrent training because "we rely on Fred to train our people and supply us with heavy horses. We know that we get good training and a quality horse for a fair price." Further: " We cannot afford a slap-dash operation. We will either do it right or not at all, and the crew at Bundoran helps us do it right. They understand risk, and they help us manage it."
We are expanding our hotel-crew training program, as we have done for Nemacolin Woodlands, a five-star resort in Pennsylvania and would be delighted to customize a driver training program for your crew.