BERTHA and CHARLES DURBIN
"I'm really enjoying the new world you've helped open up for me!" Bertha Durbin
Sometimes we get asked if we give private lessons to owners and their driving horses, and the answer is "Sometimes."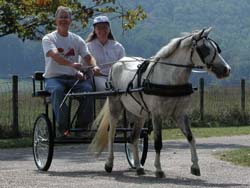 In the late fall 2001, the Durbins asked if we would work with them and their little pony. They were obviously knowledgable, and with both harness and a carrige that fit the little guy, so we thought it would be fun to help.

Well, it could not have gone better! This willing pony learned all he needed to know in just one day!

To be clear, we are pretty certain that he had been driven before, but Charles and Bertha left Bundoran grinning from ear to ear!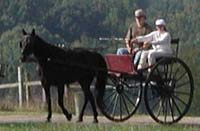 We started out with them driving our standardbred DAN who is quiet and sensible, and in the beginning, we worked only with the humans to get them operating as the horses expect.

Later that day we hitched the pony and off he went!

As you see, Charles is having fun. This was his first time at the lines of his own pony!
A month later Bertha attended the fall 2001 driving school, and reported back: "I had a great time at the clinic! And I was able to take away a lot that will help me here at home.

"I particularly liked the time spent on the "whys"- not just the "hows". That's what will be particularly beneficial in transferring what I learned to my own situation. The instructors, [ Fred Scott, Lynn Tuckwiller, and Pam Umberger ] each and every one of them, were wonderful! They so obviously enjoyed sharing their knowledge with us. It was so easy to talk with them and ask questions. They intuitively knew how to respond to our needs on our own level--no easy task with a group as diverse as ours was!

Charles Durbin is an anesthesiologist at the University of Virginia hospital. The University has brought a lot of interesting people to Albemarle County, and a number of them have come to Bundoran to learn to drive horses. People like Ann Sutherland who is a professor of biochemistry at the University of Virginia Medical School, and her husband Ray Keller who heads the UVa. Biology Department. People like Ray Keller's fellow department head, Tom Skalak, who heads the new Biomedical Engineering department, and Tom's wife Susan Skalak, who is professor of engineering, and just completing her new textbook on the philosophy and process of good manufacturing plant design.

Questions? Ask Charles and Bertha Durbin about the Bundoran Driving school.

Our quiet horses will help us teach you how to drive, and you will never be the same again.