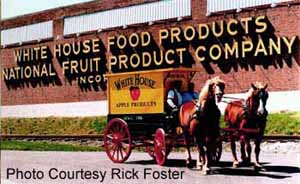 For the grand opening of the White House Apple Products promotion featuring the White House Delivery Wagon, the Bundoran Belgians were called on to show up and shine. Our coaching friend Jim Hundley had the sponsorship, but was traveling. So the White House folks asked us to fill in. With twenty-four hours notice, we provided a dressy, street-safe and fully insured team so the White House show could go on. Our crew pulled it off, and the sponsor looked good!

These are the same horses that won first place in the Winchester Apple Blossom Festival Firemens' parade several times, pulling the Charlottesville Volunteer Fire Company's fire pumper, and which have proudly represented the A. Smith Bowman Distillery, as well.
Frank Armstrong, Chairman, of National Fruit Product Company, Inc. honored our team of Ben and Abe with his presence in the seat of honor. It was a great day for White House, with front page newspaper coverage of the turnout.