APPLE ORCHARDS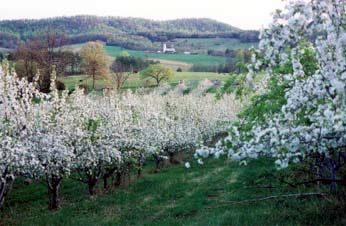 SPRING BLOOM in the APPLE ORCHARDS
makes for a mighty tempting place to ride or walk. We love the smell, the bloom, and the extraordinary beauty of these gentle hillsides that will be covered with fruit by autumn, when our forests develop their fiery colors. Looking down the valleys, we see acres of rolling pasture. We stop for a break at a gazebo.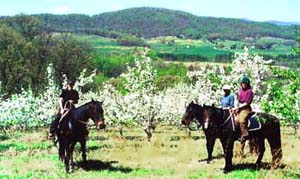 Red and Golden Delicious, Romes, Granny Smiths all on semidwarf rootstock provide food for our customers and for a flock of wild turkeys that live in the forest and wander in and out. We have other, dedicated trails throughout the farm, but springtime in the orchards is something special. But so is the fall in the mountains!
If you need a beautiful location, we can offer you one of the best.

Contact Us.