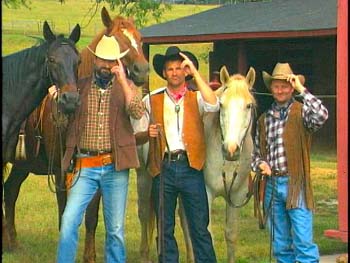 From time to time we get requests from the media that are a lot of fun!
Our local Channel 29 Weathermen needed to be "WeatherWranglers" for a local promotion, so in a matter of hours we fixed 'em right up.
Norm, Robert, and Eric had a litttle trouble with the chewing tobacco, but, otherwise, they got the shots they needed.
Robert Van Winkle commented later: "The video we got was really great! Thank you so much for helping us. It will make a huge difference in the promotion."