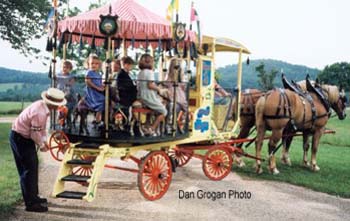 "We were totally pleased..." Chris Eure

Shouts of joy! Miles of smiles! Fully functional and an absolute delight! No one has yet looked at the Children's Delight without grinning. The wooden pipes of the hand-cranked street organ provide appropriate soft "OOM-PAH-PAH" music traditional to this vehicle.

The Foxfield Races booked the "Children's Delight" to appear at the fall running of their steeplechase for the benefit of Recording for the Blind and Dyslexic. Patrick Butterfield, Race Director comments: "Fred Scott's antique carousel was a real asset to the Fall 2000 Foxfield Races. Its uniqueness and beauty greatly enhanced the Painted Pony Ball and added to the festivities of Family Day at Foxfield."

Anne Tate, Marketing Director, adds: "We fashioned the theme for the Fall 2000 Foxfield Races around Bundoran Farm's painstakingly restored antique kiddy carousel. The whimsical nature, bright colors, and unique charm of this spirited 'toy' was enjoyed by the children who could take a ride, as well as the parents and spectators who watched them.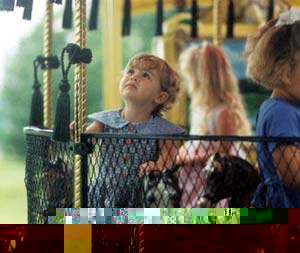 Chris Eure, Executive Director of Recording for the Blind and Dyslexic, was ecstatic: "We were totally pleased. The carousel made our event. The Foxfield Races staff tells us that ours was the 'most successful Foxfield ever', and we believe that was in large part due to the media coverage of the carousel drawing people to the Races While the carousel appearance fee might seem like a lot, we absolutely got full value for our investment. Over 1,500 children rode on it at Foxfield. What a joy! We appreciate Bundoran's staff being so available for pre-event publicity from beginning to end."

The Children's Delight is the last of its kind. There are no other known horse-drawn kiddy carousels remaining in the United States and only one or two in Great Britain. This exceptionally rare and valuable vehicle has been fully restored by the Bundoran farm crew and then redecorated by Kathy Peace.
Before restoration
and
After restoration
images shown here. It was a fun job, but we don't want to do it again!
The only thing close to our horse-drawn Carousel is the Bundoran Farm stationary Kiddy Carousel which is suitable for a private or secluded park space, bank lobby, or corporate atrium. The horses are 1910 original Mangell's aluminum castings of an Ilions carving. It's available for long-term lease.