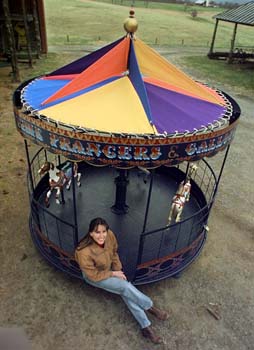 While the horse-drawn carousel "Children's Delight" is the last of its kind, there is one similar, and it's here at Bundoran Farm. Our stationary Kiddy Carousel is suitable for a private or secluded park space, bank lobby, or corporate atrium. The horses are 1910 original Mangell's aluminum castings of an Ilions carving. It's available for long-term lease.

Our horse-loving photographer friend Don Long works for Richmond Times-Dispatch and he lent us his talents as he took many of the photographs that you see on this site.

Don's co-worker Carlos Santos is a bright and enthusiastic reporter assigned to Charlottesville. He and Don Long recently joined up to produce a stunning photo-feature on Kathy Peace's fine brushwork as she was completing the decoration of the stationary Kiddy Carousel.
There are no other known horse-drawn kiddy carousels remaining in the United States and only one or two in Great Britain.