Fred Scott, Jr.
(434) 295-4188




ELEGANT COACHING CARRIAGES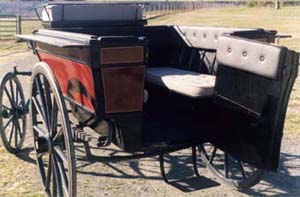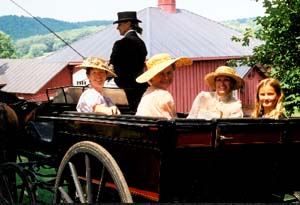 1914 Brewster Large Country Wagonnette
What fun to express your elegance in a vehicle to match your fancy occasion. With your lively pair of prancers ahead of your open and elegant Brewster Wagonnette, with room for four in the cushioned rear seats and one up with the coachman, you can arrive at your reception or event here in a style rarely seen today. We have horse-drawn farm implements and commercial tradesmens' vehicles, too, but shown here are the fancy coaches! The beautiful models are our students and instructors playing dress-up together just after they had completed a typical curriculum of our July 2001 driving school. Thanks, ladies!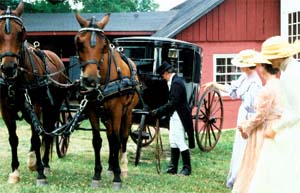 The Bundoran Farm elegant coaching vehicles are descended from our Scott ancestors and include ( shown here on the right) our great-grandfather's Clarence Brougham (which he purchased new around 1870).

It was made by Flandreau and Company of New York City and is an extremely formal vehicle for a gentleman and his family. It seats four inside, with room for one more next to the coachman.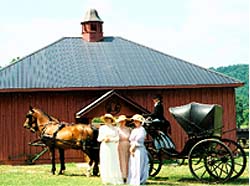 Our grandmother's graceful 1910 Brewster Victoria, is as elegant a lady's vehicle as there is.

Elizabeth Strother Scott died in 1926 but before then she drove this vehicle regularly. After her death it was given to her daughter Mrs. John H Bocock, then, by her children to our cousin Mr William T. Reed III, who passed it on to us.

It seats two under the collapsible hood.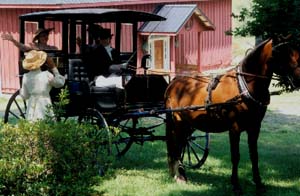 Our aunt Mrs John H. Bocock also owned this c.1920 Rockaway omnibus, which is used as a semi-formal carriage.

Fully restored with a dark blue interior, its vertically sliding windows make it ideal for variable weather.

It can be pulled either by a single horse or a pair, and it seats four inside.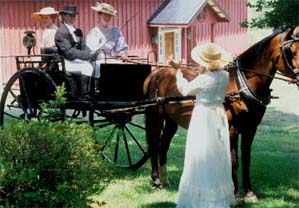 For the lovers of the flashy single horse put to an elegant cart we offer our 1890 Studebaker Dog Cart.

Carrying four dos-a-dos (back to back), it's really stylish when put to an elegant light horse.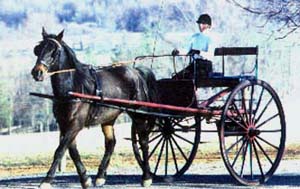 The Kentucky breaking cart carries a driver plus one, is used for mostly for training, but is perfectly appropriate as a light sporting cart, as well.

Sometimes, we use our carriages creatively, as Jennifer and Greg Love did for a reception after their wedding. They used our carriage house for a party, and it was a lovely event!

Interested? Contact one of our event managers for details.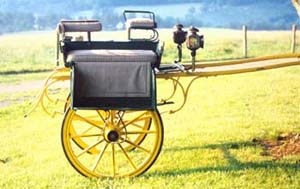 A 1900 Irish Jaunting Car Typically Irish, this vehicle - made in Killarney - would carry four passengers, one driver, and luggage behind one heavy horse.

It was the Irish commercial taxi, and - because of its separated seats over each wheel, is sometimes called a "courting cart."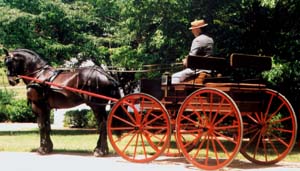 The ultimate sporting gentleman's vehicle is the Bronson wagon. Perfect for a country outing, it's pulled by a single horse or pair and carried four.