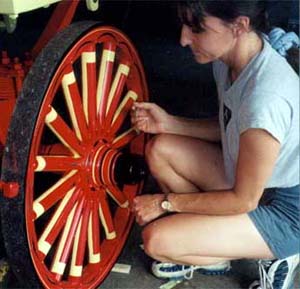 Kathy Peace striping the wheels of the kiddy carousel
"I love the variety of vehicles I get to work on," reports Kathy Peace "and I have met so many nice and interesting people as I do my decorative work. The many different types of vehicles that I work on are fascinating. It's a joy to see how much better they look when when I'm finished. Just a little accent striping is sometimes all it takes to emphasize the beautiful work done by those craftsmen who are restoring these classic carriages."

Kathy continues to learn her art and says that's it's "...really exciting as I develop my own style of lining elegant carriages with a refined fine stripe and small scrollwork. I first learned from Isaac Reiff in Mifflenburg, PA who paints and stripes carriages. He also drives his buggy whenever he needs to travel."

Earl Lloyd taught Kathy lots about style, proportion and proper use of color. Earl has his own carriage shop near Charlottesville, Va, and he does beautiful upholstery work for carriage seats.
Erik West is Heraldic Artist by Appointment to Her Majesty Queen Elizabeth. Kathy and Erik spent hours together in his studio on her recent trip to England. It was hard to tell who enjoyed it more: Erik, an artist of worldwide renown, or the attentive Kathy with the rare opportunity to learn from a master. Erik recently restored the Queen's Irish State Coach, a truly awesome project that took several years.

"Ted Hughes is a good businessman." says Kathy "He always gets his work out as promised, and he is a really good woodworker. Plus, he gets some neat vehicles that are fun to decorate.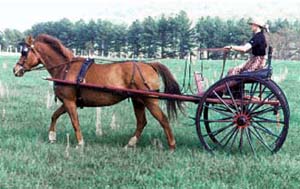 Here, Kathy is driving PUMPKIN to a Kentucky Breaking Cart, which she striped.
"The Bundoran collection is really special. Fred uses the large, highly decorated, commercial vehicles that are appropriate for his heavy horses and they are really fun to decorate because they were originally used as advertising pieces in the days before slick magazines and television. They should have bright, flashy striping and highly ornate lettering.
"The carousels are an artist's dream. They don't come along every day. Each little pony is different, and the carousel itself is highly - maybe gaudily - decorated. It's fun to be just a little over the top! We try for a theme, but the horse-drawn kiddy carousel is really eclectic. It's combination of fantasies with a castle, mountain scenes, a fairy reading to a dog, angels, cherubs, and the wonderful hucksters' faces around the base. It sounds weird, but there is a continuity throughout the carriage.
"No one can look at either carousel without smiling!" she adds. "For me, that's payment enough."

Recently, Kathy has done some beautiful heraldic work for several Virginia families who wanted their Coats of Arms properly displayed. She works with a tiny brush to get the fine details just right, and the Arms are magnificent. We know she would love to decorate your vehicles, too.

September 2007: Kathy Peace Bland died much too young in the Fall of 2007, finally leaving her loving husband and her stepchildren after their long and courageous battle with brest cancer. Her lovely decorative work on our carriages will always be a pleasant reminder of a wonderful person.