BUNDORAN HUNT CLUB
This Club membership is full, but ask our
Club Manager Jim Wynne to put you on our wait-list.

Charter member Jason Blount and his handsome 2003 ten pointer! This magnificent trophy was entered in the 2004 Virginia Deer Classic, a big outdoor hunting show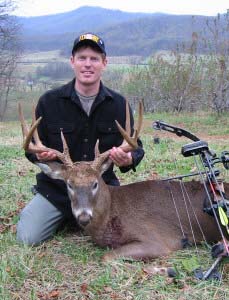 and deer contest in Richmond VA. Jason reports that he won FIRST PLACE for the archery 9, 10, 11 point class with this Bundoran buck! This makes two years in a row that Jason won that division!
In southern Albemarle County in central Virginia, lies the Bundoran Hunt Club, on the upper branches of the Hardware River; its well-watered farm pastures, extraordinary landscapes, and mountain valleys provide some of the most peaceful and pleasant hunting surroundings in this prestigious community.

Close to Charlottesville and the world-renowned University of Virginia, its 2000-plus acres, several hundred in modern, productive apple orchard, hundreds of pasture acres , and magnificent, mature hardwood forests , linked with 20 miles of private walking and hunting trails in the valleys and through the timber stand improvement projects, are all spectacular in the autumn. Plenty of room for a group of your friends to hunt safely in separate areas on these magnificent hillsides where a lovely gazebo awaits you for your picnic lunch. To discuss anything about this Hunt Club, please call our Club Manager Jim Wynne at 434-977-7495.

Our Club has high expectations of good sportsmanship and gracious social behavior by our Members. Our rules and procedures - explained in considerable detail below - are carefully designed to maintain the Bundoran Hunt Club as an exceptional place to hunt, to enjoy wildlife in the quiet of our forests, and to enjoy the company of other Members. We have a zero tolerance for the use of alcohol before or during hunting, for game law violations, and for behavior "near the edge" of the game laws or in social interaction among Members. A Member's full understanding and enthusiastic acceptance of these standards will make every hunting season a safe, pleasant, and productive one for all. Club Members not living up to these standards will not be invited to renew their Memberships.

Please do not apply for Membership if you differ with this philosophy. If you agree with it, we welcome you and look forward to getting to know you.
Membership Fees ..... ......... and Regulations
Membership Fee: To join, a $500.00 one-time Membership fee is nonrefundable and nontransferable.

Archery Club: requires membership plus a $500.00 annual hunting fee ...limited to TEN members which entitles the member to bow hunt anywhere on the hunt club property during the fall deer and fall turkey season. There is a dedicated ARCHERY-ONLY section near the center of the club property in which ONLY bows are allowed. Two bucks may be harvested with a 16-inch minimum width of the antlers on the first buck and an 18-inch minimum width on the second.

Both bucks must have 6 points or better to be harvested. The Archery Club member may also harvest 2 does - plus DMAP does - and one turkey hen and one black bear may be taken, which must be a minimum of 100 lbs. dressed weight.

Our Spring Gobbler Club: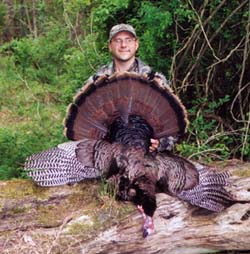 requires membership plus a $300.00 annual fee (...limited to SIX members, with four spaces remaining for the Spring 2005 season). Gobblers - only - may be taken in the spring season, with any weapon. The Spring Gobbler Club members have access to all the acreage on the property. Steve Owens' 2005 gobbler shown here.

Our Full Bag Club: requires membership plus a $800.00 annual fee (...limited to TEN members...with a minimum of eight members...) which entitles the member to hunt with bow, black powder muzzle loader, and modern sporting arms, beginning December 1. Archery Club members can add this option for only $300.00 per year additional. These Full Bag members have access to all the acreage on the property, but ONLY BOWS may be used in the archery-only area. Two bucks may be harvested with a 16-inch minimum width of the antlers on the first buck and an 18-inch minimum width on the second. Both bucks must have 6 points or better to be harvested. Only one of these bucks may be taken with a gun, and we will not use guns at all until December 1 of each year. The Full Bag Club member may also harvest 2 does - plus DMAP does - and one turkey hen and one black bear may be taken, which must be a minimum of 100 lbs. dressed weight.

DMAP -- Virginia's Deer Management Assistance Program: All Members are encouraged to harvest as many DOE DEER as possible - using our DMAP tags - in accordance with annual recommendations from our cooperating Virginia Game Biologist, Ron Hughes. See below for more discussion of our Game Management Program. To achieve these goals, the following new Club rules are in immediate effect.

Failure of a Member to participate in AT LEAST ONE DOE DEER day will be grounds for non-renewal of Membership.

Each member is be encouraged to take 2 DOE DEER during the hunting season IN ADDITION TO any DOE DEER taken on CLUB DOE DEER days. Actual results as well as personal effort expended towards this goal will count for much as membership renewal invitations are extended annually.

Staff Members (farm employees) will be encouraged to take DOE DEER as seen in the normal course of farming days, while honoring all other Club rules.

PRIZES:
Anyone taking more than TEN DOE DEER a year gets a free membership the next year.
Most October DOE DEER taken—$300 reduction in following year fees.
Most November DOE DEER taken—$200 reduction in following year fees.

CLUB DOE DEER Days for the 2005-2006 season: Mark your Calendars!
December 28th
December 31st
January 4th
January 7th. This day, we will hunt the orchards for DOE DEER.

GAME REFUGES: There are several designated game refuge areas within the club property in which no hunting, scouting, or human penetration is allowed. Except for retrieval of game, this space is entirely for wild animals.

All game (except bear) must be tagged - and measurement data collected - at our members-only Virginia Game Check Station located here. This club has a ZERO TOLERANCE for Virginia game law violations. Members will be excluded from further participation based on a single conviction of game laws violated here.

Staff members have the same rights and privileges as all other members, and must abide by all club rules.
INSURANCE on the club operation is purchased by the Club managment and will be paid annually by the members - as a pro-rata assessment - along with the annual fee. Payment is due by June 30 each year.
Once the initial memberships are filled, we will need to maintain that number, or the Hunt Club will terminate operations. This membership does not include bringing a guest, nor may any member give away his member card for a day to anyone.

Any questions? Just call our Club Manager Jim Wynne at 434-977-7495 or see this nice article in "The Virginia Sportsman" magazine about the membership,

GAME MANAGEMENT PROGRAM:
We are developing a wild game management program to keep the deer sex ratio as close to 50:50 as possible. This ratio - recommended by our state Game Biologist - will continue to provide heavy-antlered bucks, like Robert Earhart's 2005 buck shown here, and a healty deer herd. As we manage these deer we intend to invite all minor sons and daughters of our Members and their friends (and, perhaps, others) to participate in the doe cull. There will be no charge for these Youth Days, but each minor youth must be accompanied by an adult who will not carry a weapon. There is no desire on anyone's part to eliminate all deer, but we include a required participation in multiple Game Management Days (for the doe cull) whether done by the Members or by others.

We have got to make an effort to help the farm and orchard operators keep deer out of the orchards (where they do financial damage) and off the farm airstrip (where human lives are at stake). COOPERATION is the key.

Game Feed plots and mineral supplements: The Club management plants wild game food plots, provides mineral mix licks, defines game refuge areas, and undertakes other practices that are coordinated with and specifically approved by the Virginia Game Commission. These areas are defined on the daily sign-in maps, and shall not be hunted over.

CLUB REGULATIONS:
Each member will have a membership card which must be carried with them at all times while on the property. "Gift Memberships" are available for not-yet-known persons, but those persons must be identified prior to the season and fully briefed prior to entering the club property. Like other memberships, these are non-transferable

Each member will have a vehicle pass card that must be clearly displayed on the vehicle's dashboard.

Vehicles will be parked at specific location on the property while hunting. From those locations you will walk to your hunting section.

ATV use is not permitted during the hunting day, except by those over 70 years of age or hunters with physician-documented handicaps. These woods will be very quiet during the season and we want to keep them that way. Midday and after-dark retrieval of heavy game by an ATV will be permitted, with no guns on or near the ATV.

Choosing your place to hunt: SAFETY IS PARAMOUNT. The property is divided into 3 large parcels, one of which is archery-only. Each parcel is further divided into multiple subsections, including several game refuges.

Upon arriving to hunt, you will select one of three parking areas that corresponds to the large parcel that you are going to hunt. At the primary parking area, there will be a sign-in sheet where you sign your name to the subsection that you wish to hunt. If you later wish to move to another subsection, you will need to return to the sign-in area, then sign-out from your first area and sign-in on your second area. When you leave for the day, you must sign out.

If someone has not removed his or her name after a reasonable amount of time after dark, most likely there is a problem which needs to be addressed. Please help.

You can only sign in to your section on the day that you are hunting, not the night before.

All State and Federal licenses and tags must be current.

No Crossbows may be used to hunt at this Club.

Each person is responsible for his or her actions.

If you decide to use tree stands, they are your responsibility, whether you use them or you let some other member use them, but no spikes, nails or screw-in steps are allowed. Ladder stands, climbing stands and fixed position stands can be used provided they will not damage the trees. Ladder sticks and rope steps are permitted.

No alcohol is allowed in the hunting field. Period. No one that has been drinking is allowed on the property, if he or she is planning to hunt. Period.

Weight and age (and other) data on game harvested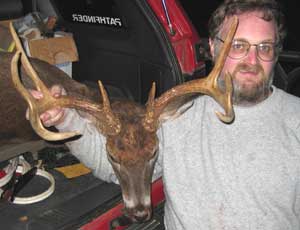 on the property must be documented on a check-in sheet at the main barn, as required by our Game biologist. Greg Duncan has just weighed and scored his nice buck, shown here. We are keeping this information to improve the quality and quantity of game taken on the farm.

Any member providing additional bait, minerals, or any attractant for any game animal -- without the express WRITTEN permission of the Club Management -- will be immediately removed from membership. Any member hunting over or in the near vicinity of feed plots or mineral sites, or hunting in a designated game refuge area, will be immediately removed from membership. This is a zero-tolerance standard which does not require a citation by a Game Warden as it is our standard which we will enforce upon ourselves.

There is no dog hunting allowed; just you and Mother Nature in the quiet of the forest.

The Club Manager or the Owner may immediately dismiss any Member from the Club, with no refunds, for violation of Club rules.

In addition, please be sure to keep all gates as you found them, in most cases closed, and, if you see any farm animals in distress, please notify the farm manager or owner.

Where to stay? Many of the finest bed and breakfast establishments around here are members of our network, with direct web access. You may park and sleep in your camper/truck in a designated spot, but there are no sewer hookups available. Campers may not be left here unless you are hunting from them. See our hotel listing.