FOUR HORSE TEAM
COMING HOME, it's been a long day.
Call it work or play, it sorta depends on "where you are coming from," as it were. If you want to learn to drive a gentle Bundoran Farm horse team like this one, you'll be tired at the end of the day. But you will have spent some time in this gently sloping field, maybe with the apples blooming in the orchards on the hillside, and it's worth it.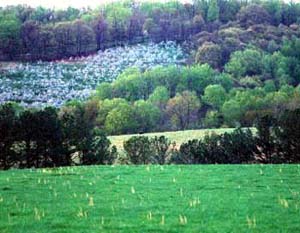 The practice field, with the orchard in bloom.
It's a good kind of tiredness: you will have a feeling of accomplishment that will never leave you. "I can do it" you'll think.
And you'll be right. With the help of our farm crew and our top-notch instructors, you can.

Or...maybe you'd just like us to hitch them up for you as a part of a private reception for your friends at your place or at our carriage house, or driving to a picnic on a hillside? Contact our event managers to set it up; we'd love to be a part of your next big reception.