HITCH CREW & DRIVING INSTRUCTORS
Where would we be with out great helpers? Lost, for sure. Here at Bundoran, we are so very fortunate to have had really good and enthusiastic staff support for our draft horse operations.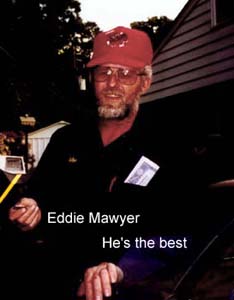 Prior to the sale of this property in early 2006, Eddie Mawyer worked here for over thirty years . "I like this job," he said. "You never know from one day to the next what we'll be working on. We have fixed fence, restored horse-drawn wagons, painted houses, and trained horses. We doctor cattle and help sell them. It's a grind sometimes, all jobs are; but there's always a challenge so I always look forward to the day."

The farm would not have run as well without Eddie. There aren't many folks who can handle the working management of a large property as well as he did (and still does, for Qroe Farm) . "We meet different people; we need their talent on some projects, and we all seem to work well together. Fred has a tendency not to hire folks who won't work out, and most do. It's a joy working here.

"Our guests add a lot, too. They come from all over the States and occasionally, from Europe. They are interesting people," adds Eddie.
When you restore carriages and carousels, you need access to a fine commercial and heraldic artist; we have Kathy Peace.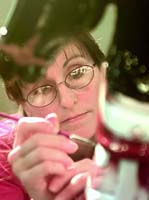 She stripes the commercial vehicles and the elegant carriages, and has decorated both kiddy carousels. Her fine brushwork brings smiles of pleasure to all who see it.
We are truly blessed to have discovered (and trained) four exceptional young people. Meredith Martin and Staci Long were the first crew members of the Bowman Belgians - Staci is the one in the co-driver's seat in the four-abreast photographs we use as a promotional piece. Her dad, Don Long, is a professional photographer for the Richmond Times-Dispatch newspaper, and he took many of the photos of the Bundoran Belgians.

Stan Rudacil is our extraordinary farrier; he really likes the big horses.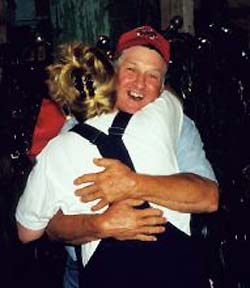 Then came the nearly-identical twins: Laurel [Amiss] Conneely and her sister Brittany Amiss live nearby and made the Bundoran Belgians the only hitch we know of with matched wheelers, matched leaders, and matched drivers! Now, matched no more, Laurel is married with a beautiful child while Brittany continues her academic career at Warren Wilson College in Asheville, where she works a team of Belgians daily.
And of course, there's Dick Sparrow, who taught us to drive in Iowa, and who sometimes brings along other helpers like:....

Jimmy Klein (e-mail him here) (the funniest man in the United States) - shown here in joyous reunion with Robins Rudacil, wife of our farrier Stan) to lead the driving school "faculty" at Bundoran.

To which, we add highly skilled local drivers like Pam Umberger and Lynn Tuckwiller, shown here.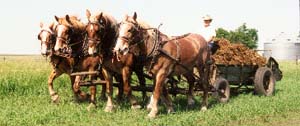 (Fred's on the manure spreader and paying for the privilege, at Sparrow Farms in Iowa.

You can come drive his teams but he won't make you spread his manure!)

After all, Lynn and Pam were among the first to attend the Driving School; now they and the Amiss twins are helping teach it!

Thanks to all!
| | |
| --- | --- |
| If you'd like to ask about or sign up for the next class: Contact Us. | |