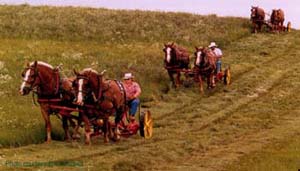 HORSE-DRAWN MOWERS IN USE, photo courtesy Bob Mischka
While horse-drawn farm equipment is rarely seen in use today, all the Bundoran antique horse-drawn agricultural equipment is fully-functional. It is impressive in action, extremely unusual in the modern world, but is really most appropriate in a film or still photography setting as period pieces. Bundoran Farm also owns a varied collection of usable and elegant coaching carriages, and a number of tradesmens' commercial vehicles, like the van below.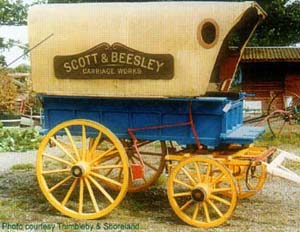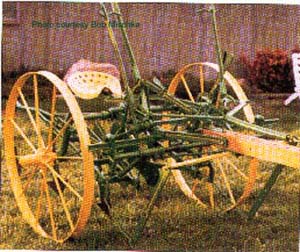 We have mowers, hay rakes, hay tedders (fluffers), plows, harrows, clod buster rollers, cultivators, and grain drills. It all works.