Fred Scott, Jr.
(434) 295-4188



ALBEMARLE COUNTY FAIR
held here every year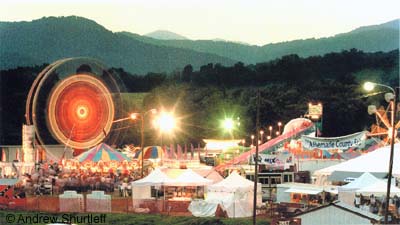 Most of the year this is one of our cow pastures.

Then, in late August, a little magic occurs.

Hundreds of volunteers show up and put up lights, tents, and phone systems. Then thirty thousand friends and neighbors arrive to learn about our county's agriculture, to see the produce of the family farms around here, and just to enjoy the beauty of the fair site and the joy of being together.

We encourage you to visit the own website, and then return to your tour of this farm.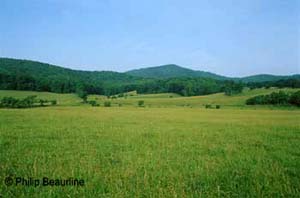 After the fair ends, the "temporary city" that was our county fair returns to its normal use as a home for our outstanding cowherd.

As we ride through these pastures - taking an occasional break at a gazebo in the woods tucked near an old growth mountain laurel in bloom - and looking out over the orchards sloping from the timbered mountaintops, across hundreds of acres of rolling pasture to the valleys below, we give thanks for our blessings.
Come learn to drive big teams of horses with us; you can enjoy it, too.
| | |
| --- | --- |
| If you need a beautiful location, we can offer you one of the best. Contact Us. | |