"STUDLY"
(The Aircraft, not the Aviator)

Read here: Nov and Dec 2015 ABS articles on Angle of Attack Displays

I am type-rated in the CJ-1 Citation Jet, but for my purposes, this like-new 1984 King Air 90 with its Blackhawk engine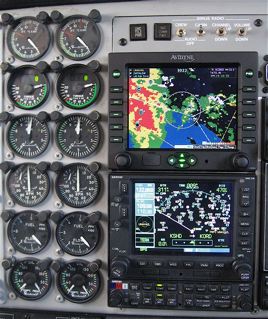 conversion is the finest aircraft I have ever flown. My friends and I love the back country of northern Canada and the Arctic, and it is perfect for our use. Our Avidyne EX600 Multi-Function Display is a pleasure to use; the Slew/Zoom capability...added in January 2010 ... is so nice. With its XMWX datalink weather service (and the symphony playing), it's an entirely logical evolution from our earlier EX500 MFD.

It has taken us across the Davis Straits from Labrador into Greenland at 270 knots (about 310 mph) in quiet comfort and it can easily operate in and out of the 2500 ft long runway at Sisimuit, Greenland or the 3000 ft gravel runway at Pangnirtung, Baffin Island. We can't get in to either place in a jet. This aircraft is now equipped with dual Angle of Attack indicators from ; it is incredibly comforting to have such trust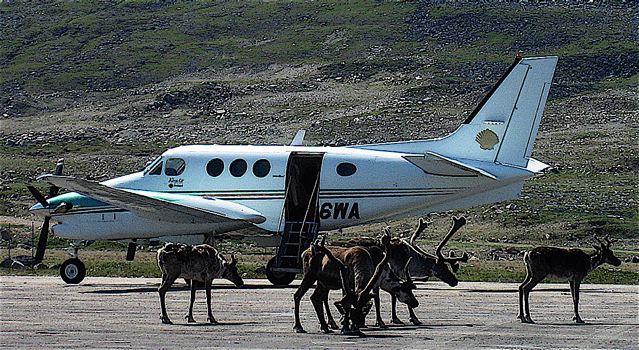 worthy speed clues when operating into such places.

We stopped in at Saglak, an abandoned DEW Line site in northern Labrador. It was summer and we are well north of the tree line. Biting flies were driving the caribou nuts, so they wanted the shade under the wings. They were not at all alarmed at our presence.
Why do we call him "STUDLY?"All my other aircraft have had female names...much the same as many boats do...but this big boy can haul almost whatever we want to bring along, and can do so very easily. So he's a "Whatever you want, Boss. Load me up." kind of aircraft. (Sorry, Ladies.)
Here we are at oh-so-beautiful Jackson Hole, Wyoming. Flying the approach into Jackson at night is a piece of cake in an aircraft like this one.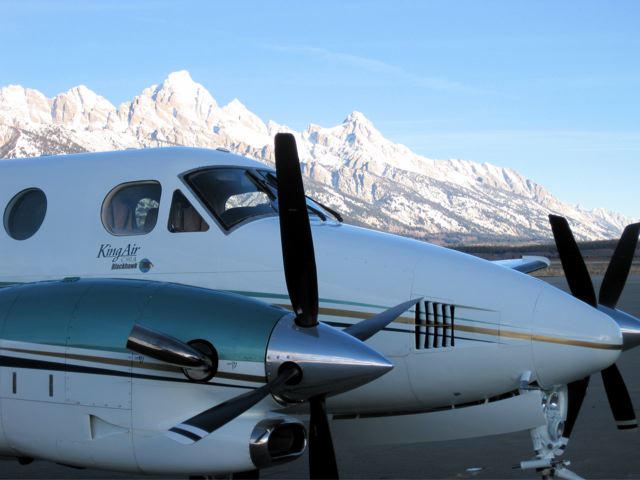 In the summer of 2009 at Goose Bay Labrador we parked next to this stuningly beautifully restored...and very rare...Canadian Noorduyn Norseman, CF-LZO . The owner -- Dennis Mockford, a retired Air Canada 747 captain, and his lady friend Bonnie Macklin -- were flying the circumferential border of Canada in honor of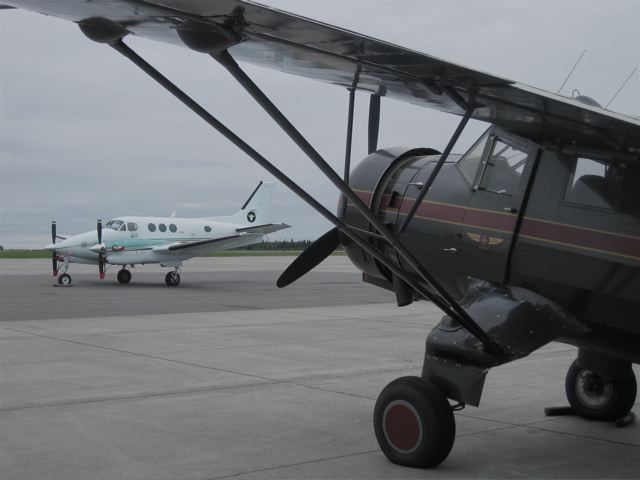 100 years of Canadian aviation history. What a fabulous aviation adventure they had..

You may recall that in 1909 Alexander Graham Bell flew his early flights off the Bras d'Or Lakes on Cape Breton Island, Nova Scotia.

This aircraft finished its all-around Canada air tour at Red Lake, Ontario just in time for the big Norseman Festival.

That's 10,000 miles. That's 100 hours of flying at 100 MPH...all of it flying over Canada's spectacular geography, just as we have.

We are certain that anyone who saw this beauty would have loved it as much as we did.
Or ... off to Churchill Manitoba in winter 2009 to see some Polar Bears. Now, I have hunted and shot Grizzly Bear and I could not believe my own eyes. Polar bear are meat-eaters, and they are very aggressive, very successfiul hunters. These are chained-up sled dogs; their owners are nowhere nearby:


These carniverous bears had eaten no meat for several months, yet they wandered freely through the dog team as the dogs were offering to play. So help me, we saw that as well: a Polar Bear hugging and playing with a chained-up sled dog. Absolutely amazing. Read why here.
New Raisbeck Swept Blade Pro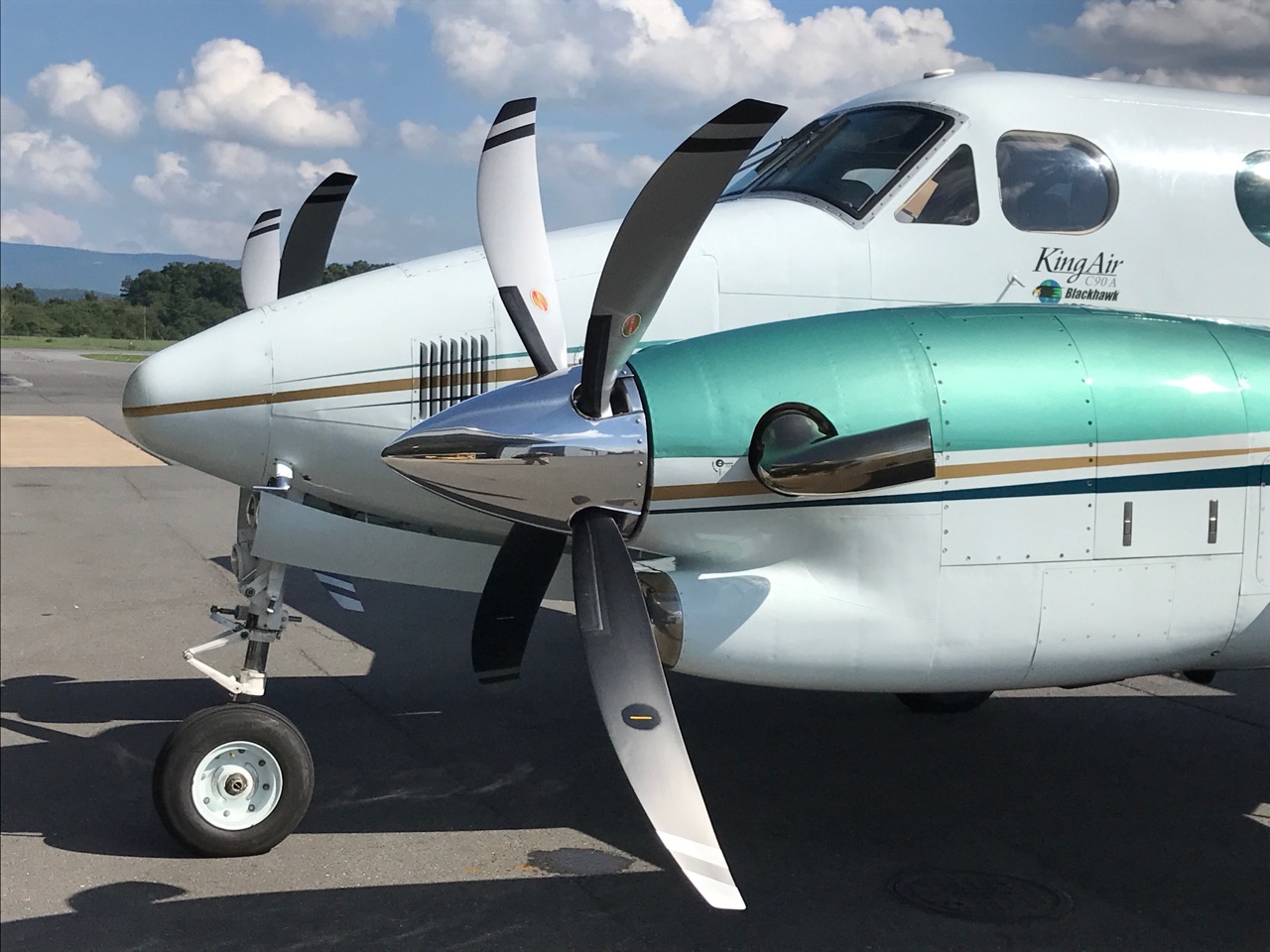 ps were installed in late autumn 2017. These give us really aggressive takeoff acceleration out of the standing start and a very quiet cruise at 1750RPM.

Sweet.
Click here for some more Northern Canada and Greenland Travel videos
Many of these travel images were taken from the aircraft.
(these are all QuickTime movies)
While you are here, have a look at our horse teams, and carriages, or take a tour of our farm in central Virginia.