FLYING TRIPS; WALKING TOURS, ETC.
ENJOY!
Having difficulty viewing the QuickTime Movies, below?


Travel Adventures in our Beechcraft. Baron and King Air
A Flying Trip to Northern Labrador 2002 - Part One

A Flying Trip to Northern Labrador 2002 - Part Two

A Flying Trip to Northern Alaska - 2003
led by Dale Hemman of "Let's Fly Alaska!"

Atlantic Salmon and Char Fishing in Northern Labrador - 2004

Escalante, Utah 2005
A walking trip with REI
\
Iceland 2006
A van supported tour and walking trip with REI

I promised I'd go back there. So very beautiful; so rugged:
Newfoundland and Labrador, 2007
on the icebreaker Polar Star

The Nebraska Sandhills, 2008

Atlantic Salmon Fishing on the
Grey River in Southern Newfoundland 2008

Walking the Gros Morne Tablelands 2008,

....trying to keep up with a beautiful young "Newfoundland Red Mountain Goat". 10 miles; no trails; a 2000 ft. up, then down, not a trail in sight. It's all bouldering. Slip and it's helicopter time. (I haven't been so tired since Parris Island in 1963.) A really good and considerate guide from Gros Morne Adventures, Kathlene is.

....from Iqaluit headed west on Baffin Island with Lionel Clark; then back east to Pangnirtung Fjord. Lionel has thousands of bush float/wheel hours; he flew the PBY water-dropping fire-bombers for Canada and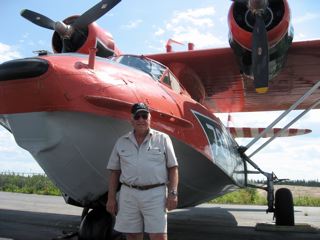 he delivered freight all over the North in DC-3 and DC-4 aircraft, and retired as a Canadien 747 captain in 1992.

What great company; we laughed all the way!
(What a great room in Pangnirtung, too! $200/bed with no bath and no room for two men to stand !! )

Greenland 2008
...from Pangnirtung, on Baffin Island, Canada over to the capital city of Greenland--Nuuk, formerly named Gothab--then along the Greenland coast and central icecap to Narsaaquag, Greenland, and ultimately back to Goose Bay, Labrador, also with Lionel Clark.

Polar Bears! Churchill Manitoba 2008
..near Churchill, on the southwest corner of Hudson's Bay, Canada in early November before the freeze-up. We stayed at the Lazy Bear Lodge, and toured with the Great White Bear Tour company. Super folks... the temperature was a tiny bit chilly....but worth it? Oh Yes! Did the bears eat the tied-up sled dogs in the video? No. I have hunted and shot wild grizzly bear and still don't quite believe my own eyes as I saw a Polar Bear playing with a sled dog and saw a dozen other bears wandering through the sled dog string, utterly indifferent to the dogs (unless the bear felt like playing) ... and these carnivores have not eaten meat since June. Astonishing.

Brook Trout Fishing at Park Lake Lodge, Labrador - 2009
Labrador to Baffin Island to west Greenland - 2009
St. Pauls River Salmon Fishing - 2011 (and again in 2012, 2013, 2014, ...I wasn't born LAST night! "Never leave fish to find fish")
Once again at the St. Pauls River in 2015 My Karen on her first big wide salmon river, casting rather well! Nice fish, too...all kissed and released, of course.
White Rim Trail - 2013 - Canyonlands (Triatheletes we are: "Walk, Bike, Truck")
Cuba, Fishing the salt flats near Caya Coca, Spring 2016. Lovely spot, very nice people.