Fred Scott, Jr.
(434) 295-4188




RAY KISAMORE - LAZY K FARMS
The Bundoran Driving School began as joint venture between Ray Kisamore and Fred Scott. In 1995, Fred had been driving singles and pairs for a decade or more. Fred bought a second pair of Belgians, and decided to hitch four up.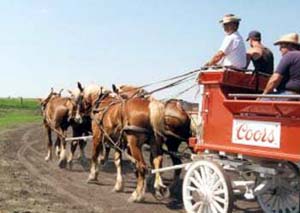 Big mistake!. With no professional guidance, Fred hitched the four, started the horses, and then - about 100 yards later, after unhitching them - decided that he needed to attend a school where he could be properly trained. After all, we were not born knowing how to hitch a four, six, or anything else.

So Fred made a bunch of phone calls and ultimately attended a Dick Sparrow school at the Sparrow farm in Iowa. In the course of that week, which culminated in a forty-horse practice weekend, Dick offered to stop by Bundoran and teach a clinic. Several years later in 1997, he did, with the initial four days at the Kisamore farm followed by four more at Bundoran. The beautiful valley just west of Churchville, nestled under the lee of Virginia's Blue Ridge mountains made for a quiet and lovely place to teach and learn. The change of location on the fifth day added variety: new fields, new slopes, and some new four-day students joining the class.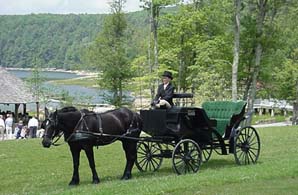 Ray Kisamore breeds Percheron horses; good ones, too, like Julie shown here at Mountain Lake Hotel, waiting for the bride and groom. Ray's life-long attachment to the heavy drafts evolved from his interest in commercial logging - he runs Kisamore Lumber Company - and the use of draft animals in heavy work.


In the fall of 2003, Ray sold us a beautiful team of black Percherons for use at the Nemacolin Woodlands Resort and Spa, where we also offer driving instruction.

Ray has a nice collection of working horse-drawn agricultural equipment, including mowers, hay rakes and tedders, earth-moving dump wagons, etc.
Ask Ray Kisamore about his horses or the school; he'd be happy to talk to you. Call him at his sawmill: 540-337-6041
| | |
| --- | --- |
| If you'd like to ask about or sign up for the next class: Contact Us. | |