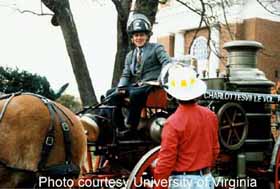 The University chose the Bundoran Belgian hitch horses to help them celebrate, and the President of the University, Dr. John Casteen, got to drive the team by himself, a most impressive leadership, if not academic, performance!
"They sure are big" he said. "What do I do if they move?"
"Beat's me" Fred replied, "I never have figured out that part."
Jeffrey Plank, Director, Corporate & Foundation Relations of UVA wrote: "What a pleasure... Our reception for the Fire Department could not have succeeded without your contribution, and all of us here -- including the two new fire chiefs -- are grateful for your help."