at N53"05' W058"056'
Late June to early July 2009
In June, the Atlantic Salmon are entering the Eagle River's sea-mouth; in a few weeks they will be 100 miles upstream in Park Lake, too.

But this was a trip for big fat brook trout. Summary? We found a few. ("a few dozen," I really mean!). The is about 80 mile southeast of Goose Bay, and is a lovely spot.

The guides use the wonderful Gander River boats, originally designed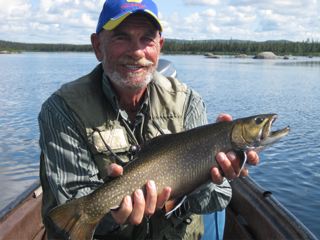 to be poled upstream 10-20 miles a day while salmon fishing (tough men, those Newfoundland boat-polers must have been). Much like a 25 foot canoe, these are stable and easy to cast a flyrod from.

Here's Ron Chaulk, from Gander, Newfoundland. He is the Lodge Manager. He knows fish, and he's a great camp host. His camp team is headed by Guy & Florence Dollimont who live in Burgeo. In a bush camp, the cook is queen; all persons defer respectfully to Florence, a truly gracious lady. She and her husband Guy make it a working vacation every year .... and we guests get lucky.
Bob Goulding, will prepare your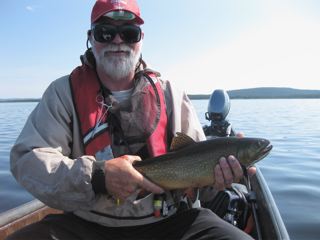 tax return in Goose Bay, but he'd rather be helping me find the fat brookies.

We fished the entry and exit narrow flows where the mayfly swarms were being carried through.

On a slick calm day, it can be much like bonefishing: see a "gulp" or a "sip" (it's true, as my young cousin and trout guide, Stephen Adamson, once told me: "the smaller the gulp, the bigger the fish")

I reckon it's as simple as: "we fat old fish don't like to waste energy." I know a few men who understand that, too.

On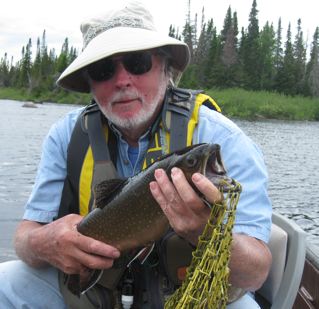 a dry fly, in five days of fishing: 106 brook trout, none under a pound; 85% were 2 - 3.5 pounds; a half dozen ran 4 - 4.5 lbs. we fished the flowing water through Park Lake, a headwater lake of the famous Eagle River in Labrador.

Total fish killed: ZERO. It's all barbless catch and release.

I am going to Hell, for sure. I have already been to heaven. Two cooks, comfy cabin, great food, three guides and ONLY me.

There were a few deer flies and mosquitoes. That's why the blood on my face. That's why trout get fat up there
Madame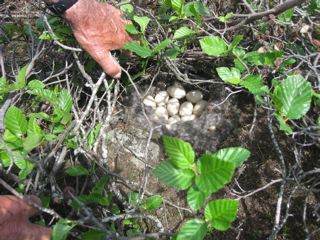 Merganser Duck hid her nest nicely, but she couldn't fool us. This one is on a tiny rocky island in the middle of Park Lake. We had pulled ahore to eat our lunch sandwiches, so we just stepped carefully.

There were a dozen or so shore-bird nests in thne gravel, fully exposed... and this well- hidden gem.

I'm sure that all the ducks are in Florida by now.

Here's one of my guides: Cortland "Shonk"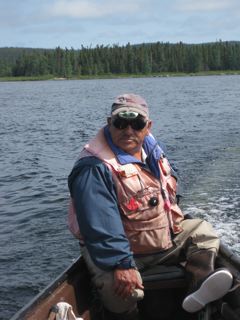 Best. An Inuit, he lives just downstream of Goose Bay.

Actually, it's relatively easy fishing at Park Lake. Apparently a number of fairly frail 85 year olds come back each year with their wives, children and grand-kids. Had we dragged lines or used wet flies or spinnerbait hardware... I'd have had 400 fish myself, easily. I came home a day early.

Like great wine, the first glass or three can be wonderful...the whole bottle? ...maybe not.
On the way out, we booked "Executive Class" in a Twin Otter Floatplane back to Goose Bay, Labrador.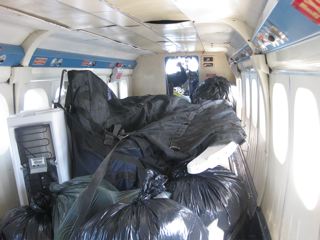 It was just the garbage and I, all being hauled out of .

They keep the place spotless. Sure, it's Canadian law, but it's also the way they like to do it. We landed at Goose Bay float dock at 3PM. At 4PM, I hop in my aircraft and head south.

The King Air is soooo nice. Lots of convective weather from Bangor to Lancaster PA, but I was at FL 270 mostly, and it was easy to deviate around it all with the great datalink WX from Sirius-XM, the symphony playing, thanks to my good friend Derek de Bastos' XM-Sirius satellites. I was home in my Virginia bed by midnight.