If you wish to use our private runway,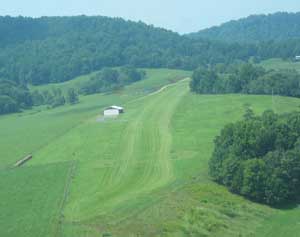 please read and then fax or mail this executed document to us, and WAIT FOR a written or faxed RESPONSE before landing.

DO NOT use the airport without a signed response from us.

Be careful! This photo was taken from the southeast approach end. looking northwest.

This document does NOT constitute permission to use the Bundoran Farm airstrip unless counter signed on behalf of NA Bundoran Farm, LLC by Fred W. Scott, Jr. who is the FAA-registered Airport Manager

___________________________

GO BACK to "Who Are We?" <<<<< or >>>> GO BACK to "Event Managers"