Fred Scott, Jr.
(434) 295-4188




2003/1980 Colemill President II Beech Baron
Model 95-B55, Serial TC-2307

PLEASE DIRECT ALL INQUIRIES TO
HEGG AIRCRAFT
Mark Hegg <mark.hegg@comcast.net>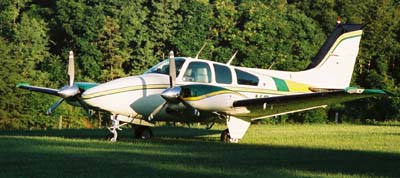 This is one of the few really nice, quite capable, almost-all-weather B55 Barons available. At nearly every fuel stop, someone says "What a beauty!"

The Colemill President II conversion in August 2003 was the final addition that made this 1980 deiced BARON B-55 one of the best equipped and best maintained Barons in the fleet. With its Norton radome, powerful look-forward weather radar, and on-board dual datalink (XM WX and OrbCom)---providing real-time NEXRAD, TFRs, AirMets, SigMets, METARS, TAFs, Winds Aloft and Icing Levels, and Storm CellTops and direction with likelihood of hail within a cell---there are few to none as well equipped, or as well cared for as this one. There is nothing worse than low-time aircraft that has been sitting, doing nothing. This Baron is active and superbly maintained; the only craft I'd even consider replacing it with might be something like a TBM 700/850, a C90 Blackhawk, or a CitationJet. However, only one of these can go where the Baron can, and I like places where trout live.

This Colemill Baron will fly level with its left engine feathered at 14,000 MSL, has a fresh annual inspection and the new Avidyne EX500 panel that includes the Avidyne CMAX geo-referenced approach charts. The powerplants are very well baffled with GAMIjectors installed and readjusted so that these engines will run smoothly as low as 10-11 GPH LOP at 20"MP at 9000 MSL. Alternatively, in smooth air, we could run the power up and the airspeed well into the yellow arc. The cylinder heads run never over 320F max, and are often are in the high 200F range. Oil temps are really cool. Lovely! These IO-550s just purr. There are no squawks on this plane.

Colemill President II 2003/1980 Deiced BARON B-55
N6734G - SERIAL TC 2307
Location: Central Virginia

Continental IO-550-E3B 300 HP Engines on "TCM Top Care"
with Hartzell 3-Blade Anti-Ice Props
August 2003 President II conversion
Hobbs Time @ Mar 2008 3681 hrs
Right Engine TCM IO-550-E3B w/GAMIjectors -- 944 hrs since new
Left Engine TCM IO-550-E3B w/GAMIjectors -- 944 hrs since new
Right Prop Hartzell EHC-G3YF-2UF/FC7663DB-4T -- 944 hrs since new
Left Prop Hartzell EHC-G3YF-2UF/FC7663DB-4T -- 944 hrs since new
Total Time Aircraft 6126 hrs TTA (Mar 2008)
Oil Analysis is accomplished at every oil change - No anomalies - All records available
OPTIONS:
Full Deice:
Boots, are shiny and almost like new ($20,000 option)
Alcohol Props & Alcohol windshield, and new alcohol pump in May 2000
Norton Radome - 90% radar transparent ($11,000 option) with abrasion boot
JPI EDM 760 Twin engine monitor & fuel flow, integrated to Nav Systems ($7,500 option)
Prop unfeathering accumulators
Concorde RG-25XC batteries, high capacity, sealed recombinant gas
Dual F& M Oil filters
Vortex Generators - MicroAerodynamics
Dual Reiff engine cylinder band heaters and engine oil pan heaters
Heavy duty brakes
Dual Flight controls
Rosen three axis sunvisors
Six seats with shoulder harness
Pilot/Copilot relief tube
136 gallons usable fuel -- 5.5 hour to 6.0 hour endurance
Wingtip mounted landing lights - long-life halogen bulbs ... and
PulseLite flashing recognition lights - long-life halogen bulbs
Aux. landing lights by Alpine Aviation, main gear-mounted. (Really Bright!)
Nose wheel taxi light
Wingtip and tailcone strobes
Center console and front seat map compartments
Large aft baggage compartment
Large baggage door
Polished aluminum prop spinners
Polished stainless steel exterior fasteners

AVIONICS:
King KFC-200 Flight Director & Autopilot, w/electric trim

King KCS-55A Compass System and KI-525 Slaved HSI, w/ large secondary slip indicator

Dual altimeters

Icarus NavAlert II altitude alerter and GPS data repeater mounted directly below Attitude Gyro

King KI-229 Dual pointer slaved RMI (ADF and #1 VOR, or #2 VOR, or GPS)
King KLN-94 GPS Moving Map (IFR ENR, TERM, APPR) GPS, reads JPI fuel flows,
remote displays on #1 HSI, and/or #2 VOR indicator, and/or RMI. Prominent annunciators are located under the glareshield for the JPI and GPS alarms.
Avidyne EX500 FlightMax MFD display, includes on-board color radar, plus
downlink NEXRAD radar, graphic and decoded METAR weather, with expansion capability for traffic, terrain, & lightning
RDR-160 Digital Color Radar with 12" antenna.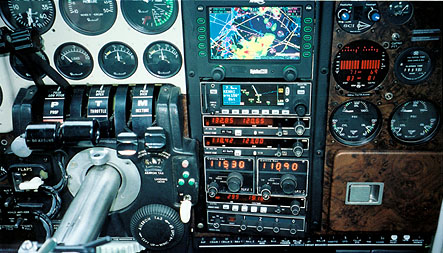 The datalink weather service from Avidyne, delivered by XM WX satellite downlink and backed up by the OrbComm galaxy is just wonderful. This picture, showing the down-linked NEXRAD weather, was shot on a private strip, with engines off and is typical of the information available in the cockpit! before we depart!

Alternatively, the excellent and very powerful on-board weather radar is displayed on the same EX500 screen and at the same time as the EX500 map, if the pilot so chooses. The combination of the Norton radome, the 12" antenna, and the crisp digital Avidyne display gives great performance on very large cells at 100-120 mile range. Notice the older Collins Nav/Com/DME? If we are at 10,000 MSL or so and dial in a VORTAC at 100+NM, the DME locks on in seconds, every time. It's all about having these units aligned properly.
King LED Digital KR-87 ADF, displayed on the RMI
Dual King LED Digital KY-196A COMs, with 9 pre-set channels
Dual Collins LED Digital 351 NAVs (Digital readout of "To & From" VOR)
Dual Collins Glideslope receivers
Collins 451 Digital DME (Dual input display, channeled by either NAV)
Collins 350 Audio Panel with 3-light Marker
King KT76A Transponder with Altitude Encoder
Monroy ATD-300 Digital Traffic Detector mounted in glareshield, w/external antenna
Artex 110-4 ELT remote-mounted with panel-mounted test switch
Sigtronics SCI-4 intercom (Isolate pilot, Crew only, or All positions and music input)
Dual yoke w/ Beech electric chronometer

Paint, Interior & Glass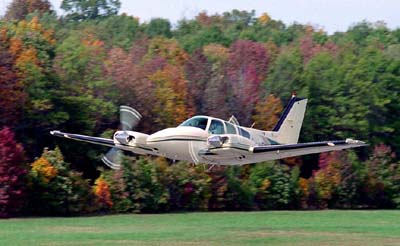 Fresh paint in August 2004 (earlier scheme seen here )
Paint is Jet-Glo Tender Yellow base w/Shamrock Green and Sun Yellow stripes in the Beech design, with Jaguar style engine cowlings and immaculate detailing.

Paint is superb...rated 9/10

Oregon Aero visco-elastic front seats were reworked in 2003, and are exceedingly comfortable. Interior is custom leather in Cream color, rated 8/10
Headrests on all seats are like new. The rear (5/6) seats are new matching leather-like vinyl, rated 9/10 and in storage. We operate this Baron as a four-seat aircraft.

Glass is excellent, no crazing, smokiness or cracks
G&D Aero tinted thermal window inserts (not shown here) make the cabin really comfortable ($2500 option)

Deice boots are slick & shiny, have had loving care since replacement in 1990

All window & door seals, wingroot seals are new in 2000; Door was rehinged in 2003.
Aircraft is exceptionally quiet in flight

Aircraft is factory zinc-chromated, no corrosion

Airframe History plus Current Engines & Props Record -- Recent Maintenance:

1983 Deice boots (Airborne 707B ) installed by BFGoodrich, Akron OH
1986 new Hobbs meter @ 2445.1 hrs TTA; Begin Aircraft Logbook #2
1989 Exported @ 3221 hrs TTA. French registration F-GHAR; Begin Aircraft Logbook #3
1990 Deice boots replaced- still look nearly new
1999 Re-imported from France, US registered as N6734G @ 4452 hrs TTA
2000 Annual completed May @ 4545 hrs TTA by Air Care, Rocky Mount NC.
All AD's and Bulletins complied with. Extensive and entirely elective fix-up, nit-picking work also accomplished at same time. All window, door, and wing root seals replaced.
2001 Annual completed May @4629 hrs TTA by Air Care, Inc.
2002 Annual completed Jan @4712 hrs TTA by Virginia Aviation, Lynchburg, VA
Tinted thermal windows added
2002 JPI EDM 760 Twin engine monitors and GAMIjectors added
Fall 2002, the pilot attended the Advanced Pilots' Seminars, Ada, Oklahoma
2003 Annual completed Jan @4995.4 hrs TTA by Virginia Aviation; new wheel bearings, races, brake pads and rotors; Pitot/Static & Transponder IFR Certification - good for two years
2003 March ... Installed (See it here) Avidyne EX500 datalink MFD

2003 Colemill President II conversion in August @ 5182.2 TTA by Colemill Enterprises. Engines run really smooth! Dual F&M Oil filters added. Pulsing wingtip recognition lights added.

2004 Annual completed Feb @ 5277.7 hrs TTA by Virginia Aviation
All nose landing gear rod ends replaced due to time in service; added a second glideslope receiver and indicator; replaced all nose landing gear rod ends due to time in service.
Deice boots and system re-checked by BFGoodrich, Akron, OH

2004 full strip and New Paint by Legends Aircraft Refurbishing, Aiken SC in Jet-Glo Colors:
Tender Yellow 574-591
Shamrock Green stripe 573-585
Sun Yellow stripe 5041
Panel is Sherwin Williams (Pratt & Lambert) Castle Tan 370-506

2005 XM MultiLink datalink added to Avidyne with CMax electronic charts
2005, 2006, 2007 Routine Annuals, few anomalies, completed by Virginia Aviation.
2007 New tail deice boots and system re-checked by BFGoodrich, Akron, OH
2008 Routine Annual Inspection completed by Virginia Aviation in March 2008

Damage: Nose Gear collapse in 1988.

No problems since then. Repairs would not be known unless they had been logged. The nose looks entirely factory-like, inside & out

I bought the plane from a responsible dealer who told me all about the damage that is discussed above. He has subsequently become a close friend. As I have used machinery all my life, I am aware that damage can be repaired, and if done well, does not affect the servicability of the machine in the slightest. This is particularly true of repairs that have significant service time thereafter with no followup problems, as is the case with this Baron, photographed here by Mike Durning departing Halifax, Nova Scotia in Sept. 2004. If you are curious why these engines look so clean underneath after a thirty hour trip, read here why they run so well.


While you are here, have a look at our horse teams, and carriages, or take a tour of our farm in central Virginia.