Here's a PDF of our detailed Flight Test Plan
A SUMMARY:
The purpose of this Flight Test Plan is to organize the Flight Test steps required to safely analyze the information provided by the Alpha Systems Angle of Attack (AoA) Stall Warning System as displayed on the Legacy indicator in six normal flight configurations of the Beechcraft S-35 Bonanza aircraft to determine the usefulness of that information at enhancing safety in the operation of general aviation aircraft. More specifically:

• Is the "OAA calibration" technique recommended by the Alpha Systems Angle of Attack Stall Warning System an accurate and repeatable method that can reliably be used to set an AoA target that will always be adequately before the aerodynamic stall AoA?

• Does that target AoA always present data to the pilot so as to warn early, thereby ensuring a safe margin above stall?

• Is the AoA instrumentation clear, un-ambiguous, and easy to comprehend?
For the answers, please see the
EXECUTIVE SUMMARY and FINAL REPORT of the Flight Test
++++++++
This inexpensive device (shown here in self-test with a nice sun shield) provides superb information about the o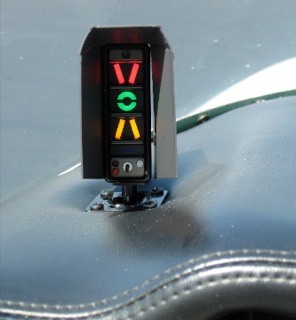 ne thing that most light aircraft panels do not show us....that is the

Angle of Attack of our wing.

AoA at stall is NOT affected by aircraft weight variances in cabin or fuel loads, or by density altitude or angle of bank.

The green donut here is shows "ON-SPEED" ... We determined that the donut is actually a range of AoA and in this particular S35 Bonanza, that means the donut is alive at 81-87 MIAS...which is right at 1.3Vs.
In addition to a tiny "cruise" bar that simply means "I'm on duty, alert", there are eight visual states, all referenced to the Optimum Angle of Attack (the donut):

Red Chevron (VERY SLOW)
Red Chevron and slow-half donut (SLOW)
Slow-half donut (SLIGHTLY SLOW)
Full round donut (ON-SPEED)
Fast-half donut (SLIGHTLY FAST)
Yellow Chevron and fast-half donut (FAST)
Yellow Chevron (VERY FAST)
Blue Bar and Yellow Chevron..... (SLOW CRUISE)
Blue Bar.......... (CRUISE)

Here's the actual Flight Test Plan as written by Lt.Col. Al Aitke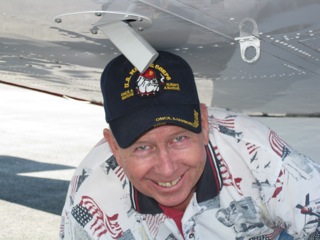 n (USMC, retired). A graduate of the Patuxent River NAS Test Pilot School, he was ultimately the Senior Fixed-Wing Test Pilot Instructor at PAX River. Al is also a retired American Airlines pilot. Here, he is inspecting the Alpha Systems AoA probe on Mike Friedman's S-35 Bonanza.

Special thanks to Mike for the loan of his beauty!

Al owns a beautiful F33 Bonanza which he keeps at his home on a lovely grass runway near Culpeper VA.