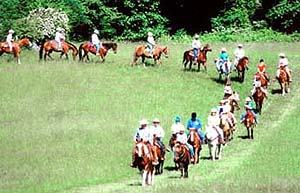 OAKLAND HEIGHTS FARM
"The best trail riding operation in Central Virginia"
Fred Scott says that David and Sally Lamb (Phone: 540-832-3350) are always the first ones he calls when he needs a stock horse. They run a serious horseback trail-riding operation for which he has great respect.
Bundoran Farm does NOT offer trail riding to the public
Every major hotel and conference center in Charlottesville refers their clientele to Oakland Heights. Daily, busloads of tourists arrive at their farm near Gordonsville from the Boar's Head Inn, Keswick Hall, and the Omni. These first-class hotels want their guests treated well, and they are. David & Sally run, simply, the best trail riding operation in Virginia.

"We hope so", says Sally Lamb, but "we don't teach driving. Fred Scott at Bundoran Farm does that, and no one does it better. He is a major influence in the education of students to become drivers, and in the education of others - like our legislators - who can help us if they understand our issues."

"Driving horses has the potential to be dangerous, but we like the way the Bundoran Farm crew approaches risk. Fred's expertise and his attitude toward safety cannot be overemphasized. You have to be far better than the average horseman to do it safely; Fred is, and does.

Sally adds: "It's neat that the Bundoran Farm school and traveling hitch horses are touching something new in Virginia; the driving is a new and exciting aspect to equine activities in our area"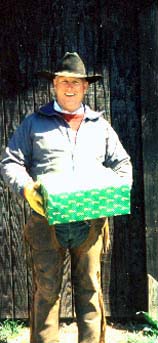 David agrees, but adds that "...driving horses is not really new, it's been done for years. What's great is the renewal of some of the good things are going by the wayside. Bundoran's operation and ours, too, are both working to preserve that knowledge. That's good"

While we appreciate these nice comments, and while we do have trails at Bundoran, we do not offer public access to rental horses, guides, or trails, like the Lambs can offer.

So, if you'd like to go trail riding near Charlottesville, call or write:
David and Sally Lamb 540-832-3350
Oakland Heights Farm
17110 James Madison Highway
Gordonsville, VA 22942