Here's a list of AoA-equipped Flight Schools. Why not rent one with a CFI and see for yourself?..

Beth Jenkins, has sever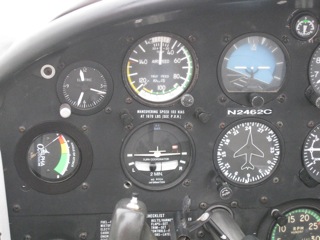 al Tomahawks equipped with AoA displays ... like this one:
Kenny Painter, instructs in an .
Evan Williams is head of the , Palo Alto, CA. They are leading in teaching with Alpha displays.
The Beechcraft Employees' Flying Club is the oldest continuously active flying club in the history of the United States. Beginning in 1941, the BEFC has enjoyed a rich history and tradition that has extended to the 21st century ... and they fly an AoA-equipped Bonanza. Well, of course! Do you live in Wichita? Ask Ken Rogers at Hawker Beechcraft Corporation if you can join their flying club.

Kansas City, near the FAA-SAD, a Legacy AoA is installed at one of:
Air Associates FBO at KOJC or
at ATD FBO at KMKC.

"gets it" better that any school I know of. The highly experienced Academic Deans (both are deeply ingrained users of Alpha displays; they were USAF flight leaders) and their dozen or so coherently-standardized CFIs and CFIIs run the cleanest shop, has the best organized, best maintained fleet of trainers that I have ever seen.
Chris Gabiou at in Blaine, MN 55449 USA 763-780-4375 has installed Angle of Attack systems in several Flight School aircraft to give their students the added benefit of AoA. For students who are going into the airlines, AoA is a central part of their flying and it gives the students a leg up for transition into the airlines.
Embry-Riddle University in August 2013 installs AoA fleet- wide on 61 training aircraft!

NEVER FORGET that a AoA Display will NOT improve any aircraft's performance, not even a little bit! But an AoA will provide sufficient additional information to give the pilot confidence to operate safely closer to the airplane's limits…and the AoA will enable a pilot to extract all--or, at least: far more of--the airplane's available performance. An AoA can definitely make a good pilot better and enable him to fly more precisely.
Disclaimer: The information provided in this website and AoA/Aircraft portion is provided free of charge. All information provided on this web site is provided 'AS IS'. No guarantee is provided for the accuracy of the information or the application of the information provided herein. I accept no responsibility or liability with regards to the accuracy or currency of the information provided. By using, reading or accessing this web site, you agree to be the user of the information provided. The user accepts full responsibility for all information provided. Although I try to keep the information on this site as accurate as possible, there is no guarantee that the reference materials or the material on this site is correct. This information is provided entirely in the spirit of helpful cooperation.
Incidentally, here's a summary of regulatory guidance clearly indicating that installation of an independent secondary advisory AoA like the "Legacy" is a "minor alteration" on the vast majority of light general aviation aircraft.

Newly-published magazine articles, Spring & Summer 2011

Click here to begin a review of "Thoughts from those who know