Every citizen of the US has wondered how best to help the people living on the Gulf Coast, so desperately affected by Hurricane Katrina. I had sent a little money to the Baton Rouge Area Foundation to use as they saw fit, but wanted to do more—something personal—and was waiting for that chance.
While my FAA pilot's license indicates that I have commercial pilot privileges and an instrument rating in multi-engine aircraft, I am not employed as an aviator. On my own time, with 45 years experience in private aircraft, I fly Angel Flight missions when I can.
Angel Flight is a free service to patients burdened with financial issues; it offers transport to medical appointments in private aircraft, all missions being flown and paid for by the volunteer owner-pilots. Additional missions are undertaken as compassion flights. Thousands of aircraft owners routinely undertake these transports, using the special air traffic control call-sign "Angel Flight".
When an Angel Flight dispatcher asked me to pick up a family in Louisiana and transport them to Fredericksburg, Virginia, I flew my twin-engine Beech Baron to Slidell to meet the family. As we approached the Gulf coast, at least half the call-signs on the air traffic control frequencies were other Angel Flight missions similar to ours.
The husband ran a roofing company. He recalls being four years old when Hurricane Camille came through his town. Wanting never to see another hurricane, he sent his employees and family away from the Katrina storm. His family lives simply in a trailer park, which was badly damaged, and his employees have left for good, to safer places. So he's out of a home and of business, for now.
They all greeted me warmly, as they had traveled to Baton Rouge three different times waiting for evacuation flights that had been cancelled or delayed. They fully understood the massive confusion and they blamed no one, yet they were running low on money and they really needed a lift. The children—Matthew (6) and Morgan (4)—are entering school in Virginia and planning to live with their aunt. The mother will return to Louisiana to help rebuild a home and a roofing business. The father was staying in Slidell to hire new employees and compete for new construction jobs.
The mother and two youngsters boarded my aircraft. None had flown before, in any aircraft—as is still true of more than 75% of the US population.
These parents have raised two exception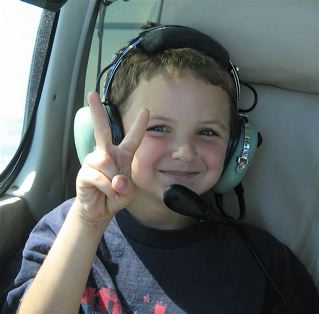 al children with lovely good manners, looking me in the eye as they shook hands in introduction. They speak with perfect English grammar and proper enunciation, with little use of slang; their eyes sparkle with intelligence and curiosity. These young children were quite at ease with an unfamiliar, and much older, aviator from Virginia.
Fully briefed on what to expect, they settled in with Matthew in the second front seat. He was assigned the title: "Co-Pilot" As such, he felt free to offer me advice and I was happy to have it.
On an instrument flight plan, we climbed to 11,000 feet to take advantage of a nice tailwind, which pushed us along to their new home in a bit over four hours. The weather was lovely with a few cloud tops at or near our flight level. It was time to chat on the intercom.
The mother is an honors student in an industrial college that teaches electronics manufacturing techniques and assembly; she was educating herself for one of the many good high-tech jobs on the Gulf coast. To get from her trailer home to class, she drives across the (now-collapsed) Lake Ponchetrain bridge to that (now-underwater) college. She has no idea how she will finish that electronics course. She was three months away from a much brighter financial future, and … here comes Katrina.
Northeast-bound, three hours into the flight, we approached the NC/VA border. The co-pilot position had been usurped by Matthew's utterly charming younger sister, Morgan. The boy and his mother were asleep. Morgan also liked her new title and had no trouble at all understanding the NEXRAD XM-WX weather display on our instrument panel that showed a large storm cell on the state line. As we looked out the cockpit windows, we could see that same storm cell quite clearly, well off to the side of our planned route. I had no intention of going anywhere near it and it became increasingly obvious that she had no intention of letting me do so. She asked several times if that was the storm we could so clearly about twenty miles away. She had seen quite enough of storms, she informed her captain quietly, quite emphatically, yet very politely. Her ca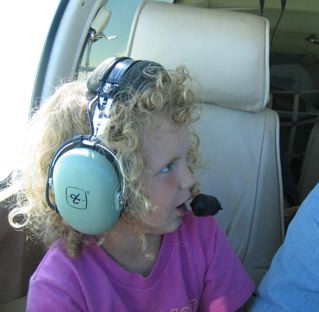 ptain concurred with her advice and we went around it.
As we passed well abeam the storm, she relaxed and watched with interest as we passed by the magnificent cloud structures lit by a clear Carolina-blue sky above. Then, she (age four, please recall) says, quietly:
"God is up here, isn't He?
I was stunned. "Yes, darling. I do believe He is"
"Which cloud is He in?" she asked.

By now, I am quite over my head with respect to theological matters and replied that I thought He was everywhere. That seemed to satisfy her.
A few minutes later we entered the smooth tops of a cloud layer and the aircraft hummed along quietly surrounded by water vapor. It is like being in a very heavy fog and there is no sense of aircraft speed or motion at all.
"Are we in heaven now, she asked?
Grasping desperately, I offer: "No, Morgan, but we are very close, I suspect. This is where I am happiest. Do you like it, too?" She smiled broadly and nodded her "Yes" back to me.
For those who have never had the great privilege to fly with a highly intelligent, articulate, polite, and gracious co-pilot, I would like to introduce Morgan. Yes, indeed, she is a picture-perfect spitting image of precisely whom you are thinking, and she also, I'm betting, has the ability to become a US Ambassador, just as the first Shirley Temple did:
Given the ages of these very young children I had noted on our flight plan that we would request a step-down descent profile. Beginning, near Danville, with the Washington Center controllers, then with hand-offs to the Roanoke and Potomac Approach controllers, many of whom I know personally, we were issued step-down clearances in two thousand foot increments. This professional handling is typical of the effort that it takes from all sides to make an Angel Flight go smoothly and comfortably, as ours did.
After landing and then refueling my plane at Fredericksburg, I said goodbye to the mother and to Matthew who, unprompted, rose from his seat to shake my hand in a gracious and gentlemanly manner. Morgan flew across the room, jumped up in my arms, and hugged me tightly with her curly blond locks buried in my neck for a long, long time. Her smiling mother knew that I did not want to give her back. Knowing that I shall never see her again is painful, yet that burden is mine alone to bear.
Nevertheless, Morgan and her family exemplify why my Baron and I—and thousands of pilots just like me—stand ready for future Angel Flights. While almost all Angel Flight family stories are compelling, few I have flown can compare to Morgan, Matthew and their energetic Louisiana parents who are hard at work on their home repair, business rebuilding and financial recovery… a guaranteed American success story, about to be written.
---
Angel Flight is one of the most rewarding organizations that we can participate in as pilots. Chances are, once you've taken one mission you'll be hooked for life!